Kevin Durant is Once Again Arguing With Fans on Twitter Because He Can't Handle Criticism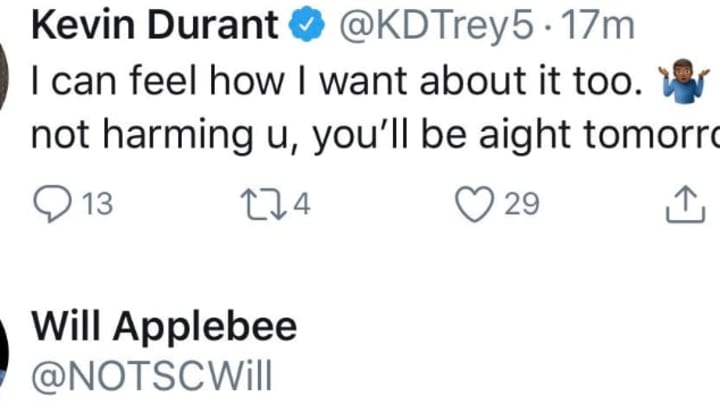 Kevin Durant's fresh new start in Brooklyn is a bit of a familiar retread, as the star forward continues to get into it with fans on his main Twitter account -- not his burners.
It seems KD isn't intent on changing the media's perception of him after leaving Golden State, speaking on a whole variety of topics in a revealing interview with the Wall Street Journal. Naturally, NBA fans had a lot to say about Durant's latest missives, and it looks like the man himself had some time on his hands to respond.
Durant popped his social media head up after being relatively quiet when he chimed in to the whole "double-teaming in pickup basketball" debate centered around Suns guard Devin Booker. Now, he's back in full.
The 2014 league MVP recently told a reporter why he responds to social media criticism last season, and it doesn't seem like Durant is letting up. It should be noted, of course, that the Brooklyn Nets are a team that's been rebuilt on a strong culture, which could make KD's Twitter antics a huge distraction, especially while missing time to recover from his achilles injury.
Nets fans are surely hoping that Durant's "completion" symbolism behind wearing No. 7 involves the team coming full circle with a championship as well. Though Brooklyn shouldn't buy too much into Durant -- or Kyrie Irving -- completing his career with the Nets.
At 30 years old and still one of the top players in the NBA, one would think that Durant's time would be better spent away from Twitter, but as his Twitter bio ("IM ME, I DO ME, AND I CHILL.") suggests, he probably won't listen to any of us anyway.