5 Best Goals of Sidney Crosby's Career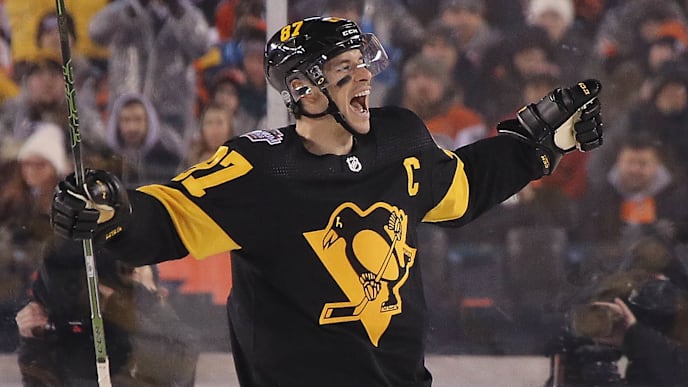 Over the past 14 years, the legend that is Sidney Crosby has never failed to impress. Pittsburgh's golden boy is essentially a walking (or skating) highlight reel. Despite the countless incredible plays that Crosby has produced over those 14 seasons, these five found a way to trump the rest.
5.

April 2, 2008 vs Philadelphia Flyers
Crosby possesses this weird natural talent where he can torch the Philadelphia Flyers literally any time he plays them. This goal from Sid's fourth NHL season proves that fact. Somehow he manages to not just deflect the puck past the Flyers goaltender, but does so between his legs as well.
4.

Oct. 23, 2018 vs Edmonton Oilers
Rumor has it that the remains of Ryan Strome's ankles are still in Rogers Place in Edmonton. That's because Crosby absolutely danced through him on his way to back-handing in the game-winning goal. This goal from 2018 against the Oilers is just one of the many examples of Sid's clutch factor.
3.

Feb. 28, 2010 vs Team USA
While this goal isn't one of the sickest that Crosby's ever scored, it certainly carries the most weight. Commonly referred to as Canada's "golden goal", Sid's game-winner from the 2010 Winter Olympics is one of the most electric finishes you'll ever see. Along with his laundry list of NHL accomplishments, Crosby never fails to dominate in international play.
2.

March 21, 2017 vs Buffalo Sabres
Most NHL players have a hard enough time scoring a goal with two hands. That excludes Sidney Crosby, who can just casually score with one hand. There's levels to this goal though. Sid just painlessly walks through the entire Buffalo squad, with just seconds remaining in the period, and then somehow lifts the puck off of one hand. This one is a street hockey goal that Sid effortlessly brought to the big leagues.
1.

March 21, 2018 vs Montreal Canadiens
Yeah, there's no logical way that any human being should be able to score a goal like this. Then again, Crosby sometimes shows that he's far beyond the capabilities of human beings. This is easily one of the best displays of hand-eye coordination you'll ever see in any sport. Forget deflecting the puck in once, Sid tips this one up to himself and then swats it past one of the league's best goalies with ease.