5 Sickest Goals of the 2018-19 NHL Season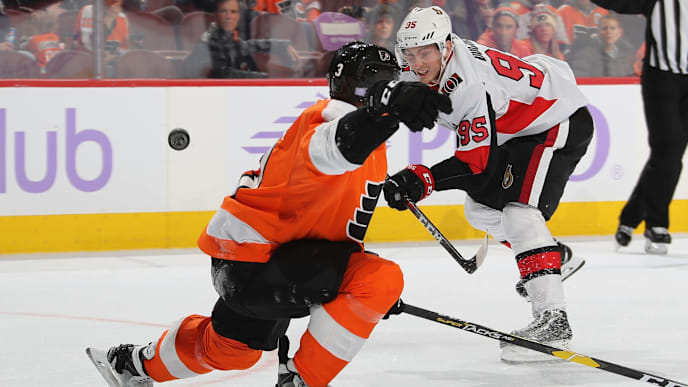 The 2018-19 NHL campaign was full of filthy goals that occupied year-long highlight reels. From the league's top star to some of the more unheard of players, there were plenty of goals to dazzle us all.
5.

Claude Giroux vs Tampa Bay Lightning
This is probably one of the more slept-on goals of the year. Not only did Flyers captain Claude Giroux elegantly bring the puck through his legs, but he managed to lift the stick of the defender, Ryan McDonagh, at the same time. Not to mention he caught Vezina-winning goalie Andrei Vasilevskiy off guard and smoothly slip the puck past him.
4.

David Pastrnak vs Edmonton Oilers
The skill and composure of David Pastrnak has made the 23-year-old one of the top emerging young stars in the NHL. He's also become one of, if not the, most consistent scorers for the Boston Bruins. This undressing of the Edmonton Oilers just further proves that. Pasta found a way to bring the puck in between his legs to fool the defender and then add two more quick stick handles to beat Cam Talbot of the Oilers.
3.

Connor McDavid vs San Jose Sharks
Connor McDavid truly operates on a different level than any other forward in the league. Although his Oilers were caught in a losing effort to the San Jose Sharks, McDavid was able to sneak in one of the best goals of the season with just three seconds left in the game. This display of hand-eye coordination shows why some praise McDavid as the next Wayne Gretzky. The skill and patience required to tip this puck in is beyond understanding.
2.

Anthony Duclair vs Philadelphia Flyers
Anthony Duclair has bounced his way around the NHL, spending time with five different teams. He even managed to earn his spot on this list with one of his former clubs. After taking on the entire Flyers team, Duclair somehow managed to slide the puck past Brian Elliott from his knees. Although he doesn't always light up the score sheet, he still found a way to provide us with one of the most impressive one-man efforts of the entire 2018-19 season.
1.

Matt Duchene vs Philadelphia Flyers
This one is absolutely insane and beyond any sort of reason. Taking the puck from the opposition's blue line, Matt Duchene had his initial shot blocked. However, that wasn't enough to stop him. From the circle and on his backhand, Duchene somehow swatted the puck out of mid-air and past the Flyers goaltender. Once again, the hand-eye on display here is incredible. Duchene earned his way onto every season-long highlight tape with this absurd beauty of a goal.