Power Ranking the NHL's Pacific Division After Crazy Offseason
By Charles Nason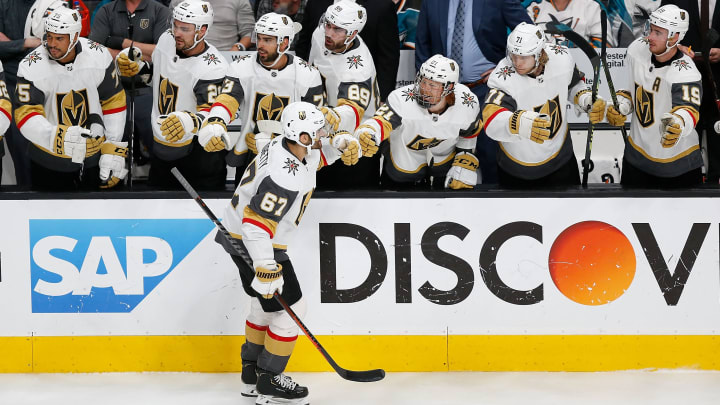 Vegas Golden Knights v San Jose Sharks - Game Seven / Lachlan Cunningham/Getty Images
Despite solid finishes in the regular season and a heavy postseason presence, the past few years haven't been all too kind to the NHL's Pacific Division. In the past four years, two of its teams have made the Stanley Cup finals, but ultimately lost. With that in mind, the Pacific still has plenty of potential to compete for a championship each and every year. They've been one of the hardest divisions to predict for next year, but nonetheless here we go.
8.

Anaheim Ducks
Anaheim Ducks v Arizona Coyotes / Christian Petersen/Getty Images
Let's be brutally honest here, the Ducks are just flat out not very good. Although they scraped together an acceptable record last season, they haven't made any legit moves that will improve their lineup. Instead, it seems as though they've become complacent with mediocrity. Their lineup could place them not just in last place in the Pacific, but towards the bottom of the entire league.
7.

Los Angeles Kings
Calgary Flames v Los Angeles Kings / Yong Teck Lim/Getty Images
The Kings' offseason has been utterly boring. After finishing the 2018-19 campaign at the bottom of the division, you'd expect them to go make a game-changing move. That, unfortunately, hasn't come yet. Since their glory of 2012 and 2014, the Kings have gone nowhere but down. Although they'll go forward with the experienced Todd McLellan as their new head coach, don't get your hopes up for a promising season from the Kings.
6.

Edmonton Oilers
Edmonton Oilers v Vegas Golden Knights / Ethan Miller/Getty Images
It's tough to put a team with one of the world's best players near the bottom of their division. However, the Oilers are just missing something that keeps them from becoming one of the league's most dangerous young cores. Although the duo of Connor McDavid and Leon Draisaitl is one of the best in the NHL, the two aren't enough to make Edmonton seriously competitive. McDavid will undoubtedly have another incredible season, but the Oilers will likely float around the bottom of the Pacific next year.
5.

Vancouver Canucks
Vancouver Canucks v Arizona Coyotes / Christian Petersen/Getty Images
The Canucks are beaming with potential. They've got young forwards like Elias Petterson and Brock Boeser to carry them in scoring and a solid defensive core to make up for mediocre goaltending. The addition of J.T. Miller in their offensive lineup will certainly help them add a level of physicality they've been missing. Although they're still inexperienced compared to the rest of their division, the Canucks should see a serious point boost next season.
4.

Calgary Flames
Colorado Avalanche v Calgary Flames - Game Five / Derek Leung/Getty Images
Of all the teams in the Pacific, the Flames could see the most drastic drop from last year. They had a historic season in 2018-19 that netted them the best record in the Western Conference. Despite being loaded with forwards and decent defensemen, they're still just sitting on the brink of contention. They'll still compete for a top-three spot in the Pacific next year, but probably won't mirror their performance of last season.
3.

Arizona Coyotes
Pittsburgh Penguins v Arizona Coyotes / Christian Petersen/Getty Images
You're right, this is another extremely bold prediction. The Coyotes finished right on the edge of the top-three in the Pacific last year, and their lineup has seriously improved since then; mainly in the addition of Phil Kessel. With Kessel leading their offense alongside a slew of emerging young talent, the Coyotes are going to be strong this year. They won't be the best of the division, but they could easily earn a top-three spot.
2.

San Jose Sharks
Vegas Golden Knights v San Jose Sharks - Game Seven / Ezra Shaw/Getty Images
Each and every year, you have to consider the Sharks one of the most dangerous squads not just in their division, but the entire NHL. Since 2005, they've only missed the postseason once. Although they lost their captain, their offensive and defensive sides are both still stacked. They've also gotten great goaltending from Martin Jones since he took over between the pipes four years ago. Expect them to be back in the top-three of the Pacific, if not at the top, once again next year.
1.

Vegas Golden Knights
Vegas Golden Knights v San Jose Sharks - Game Seven / Lachlan Cunningham/Getty Images
When you go through the Vegas lineup, they really aren't lacking talent at any position. They could certainly use some help on their blue line to keep pucks away from Fleury, but not much. They caught a bad break in the postseason last year, which resulted in a total meltdown and a first round exit. With a full head of steam heading into next year, Vegas will be right around the top of the Pacific.