Writer and Wife of Sean Doolittle Destroys Astros Fan on Twitter Over Weak Explanation for Scandal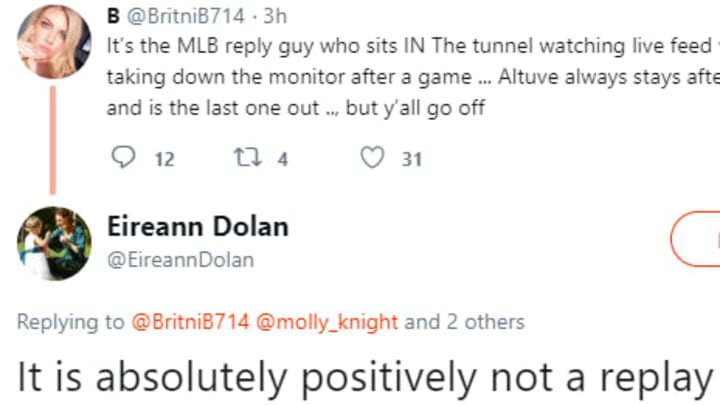 The Houston Astros remain the talk of Major League Baseball, but for all the wrong reasons these days. The defending American League champions are under the proverbial microscope after a bombshell report asserted they've used cameras at Minute Maid Park to steal signs, feeding them to a screen near the dugout.
On Sunday, a new update on the saga was revealed. In the Astros' 2017 World Series DVD, there are images of their supposed sign-stealing setup that was described by all the reports.
Molly Knight of The Athletic replied to the tweet, asking where the photo came from.
However, there was one snarky and annoyed Astros fan who claimed this is simply the MLB replay guy who's taking down the "monitor." But not without mentioning that Jose Altuve was staying late to sign autographs for fans, because that totally relates to Knight's question.
Eireann Dolan, writer, television personality and (important for this story) wife of Washington Nationals reliever Sean Doolittle, stepped into the conversation to let this misinformed Astros fanatic know that monitors are held in the video rooms of clubhouse, not in the tunnel.
But the fan continued to defend her team, saying that the replay guy isn't allowed in the clubhouse. Huh?
Dolan continued to say that video staff watches game broadcasts in the aforementioned room in the clubhouse, but stressed that all replay montiors are in New York.
But the fan was still adamant in her defense, arguing vociferously that an MLB employee is always located in the tunnel.
No matter what accurate info Dolan brought to the table, the fan simply wasn't hearing it.
The Twitter user then posted a rule that supposedly backed her defense, which actually supported Dolan's explanation.
We're not sure "Britni" knew who she was dealing with.
Growing tired, Dolan wished the Astros fan a good evening, but not without trolling her with a photo of herself holding a Nationals "2019 World Series Champions" flag. The 'Stros fan invited her on a tour of Houston prior to deleting her tweet, and, well...
Arguing with an Astros fan on Twitter proved to be exhausting for Dolan, but she delivered one final haymaker to win the debate