VIDEO: Toronto Plant Guy Successfully Gives Kawhi Leonard His 'Kawhactus' During Raptors Parade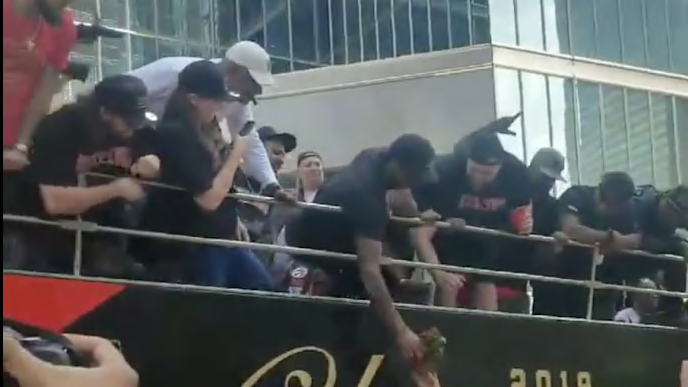 The Toronto Raptors' championship parade has been action-packed so far. And though a now-apprehended shooter threatened to ruin the proceedings, there's still much for fans to hold onto from the day's events. Between chants to keep Kawhi Leonard, Drake chugging beers, and even a fake Kawhi signing autographs, the parade has been full of spirit. And all of that wasn't enough, one lucky fan finally got to deliver a house-warming gift directly to the Finals MVP himself.
After the Raptors closed out the NBA Finals against the Warriors in six games, Toronto fans took to the streets and haven't stopped celebrating since. There was even a fan carrying around a giant plant that he said was a gift for Kawhi. In timely and comical fashion, he was quickly dubbed "Plant Guy" across social media.
Now, the gifting is complete and Kawhi has some greenery to place in his home. To go along with the amazing "Plant Guy" title, the gift that he presented to Kawhi was also given a name of its own: the Kawhactus.
Why this fan wanted to give Kawhi Leonard a plant is still ultimately unclear. The final gift turned out to be much smaller than the one he was carrying around in the streets after the Raptors' victory, but all's well that ends well.