VIDEO: Nate Diaz and Jorge Masvidal Agree to Rematch After UFC 244 Fight Gets Called by Doctor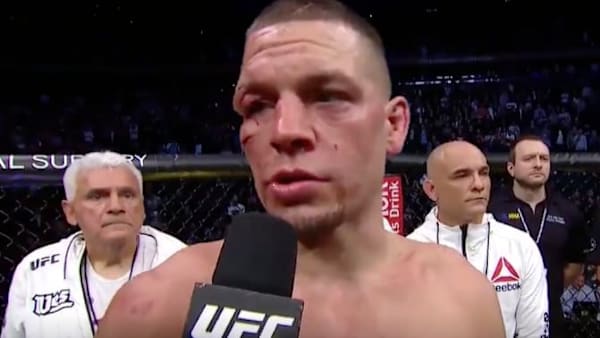 Nate Diaz and Jorge Masvidal were both locked in Saturday night when they clashed in the octagon at Madison Square Garden for UFC 244. After a thrilling first three rounds, Diaz was, by doctor's order, forced to discontinue from the bout, making Masvidal the winner by TKO. Well, neither party was satisfied with the result, and both commented on their eagerness to fight again in a rematch.
"I'm coming back for your a**," Diaz shouted at Masvidal in his post fight interview.
Diaz sustained a large gash above his right eye, though there was certainly reason to believe he could continue fighting. Regardless, the doctor put an early end to the bout.
Masvidal had similar things to say in his post fight comments, suggesting that he doesn't like letting opponents leave the ring conscious.
"We're running it back. We'll run this back," said Masvidal.
It'll take a while for the fighters to recover from the vicious blows they sustained in the ring, but MMA fans certainly have something to look forward to when these two face off once again.