Trevor Lawrence's First Taste of Football Mortality Will Only Help in Long Run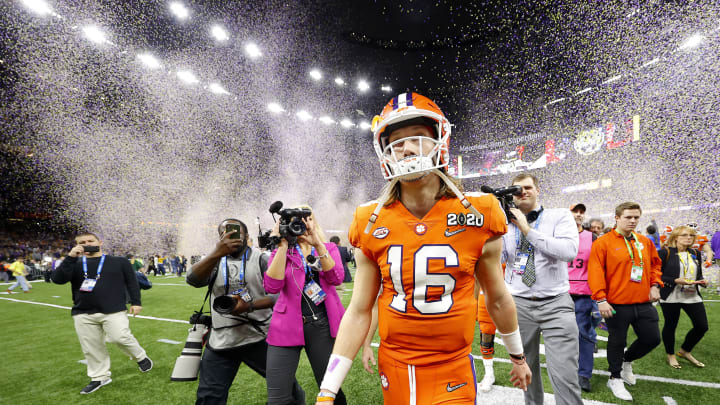 We joke about college football immortality -- a term thrown around with every champion, Heisman winner or record-breaker in sports. For Trevor Lawrence, his peak as an amateur athlete happened far too early to truly appreciate the unpredictability and valleys that come with being at the very top of one's game.
It's impossible to discuss silver linings with a man who hasn't lost a game he's started since high school. The Cartersville native has remained dominant at every level, leading spirited efforts over stacked defenses a 19-20-year-old kid has no business shredding like lettuce.
But against LSU, that smooth, straight career ascent hit a staggering halt, at least momentarily.
Nov. 17, 2017 was the last time Lawrence had to embrace defeat. You could tell how unfamiliar he was with failure as Dabo Swinney consoled him on the sideline, seemingly explaining that this was just one small misstep in what many predict will be an exemplary career for the likely No. 1 pick in the 2021 NFL Draft.
All of this is true, and Lawrence will be better for it. The hair jokes, the QB comparisons between he and Burrow, the constant footage of a kid out of his element...it'll all pay dividends after Lawrence is forced to improve with this sustenance as his backing.
None of Lawrence's perceived faults -- the only legitimate one being that he came up small in a big moment -- will keep Clemson from their ultimate goal next season, being another chance at the College Football Playoff.
The ACC remains as wide open as ever, with the Tigers the clear favorite. Lawrence gets another season in Clemson's system, albeit under a new offensive coordinator who may very well help the pro prospect improve some small nugget of his game we have yet to find on film.
The future for Lawrence remains bright in Clemson, even if he's surrounded by darkness in the moment.