Joe Burrow is Modern College Football's Rudy and So Much More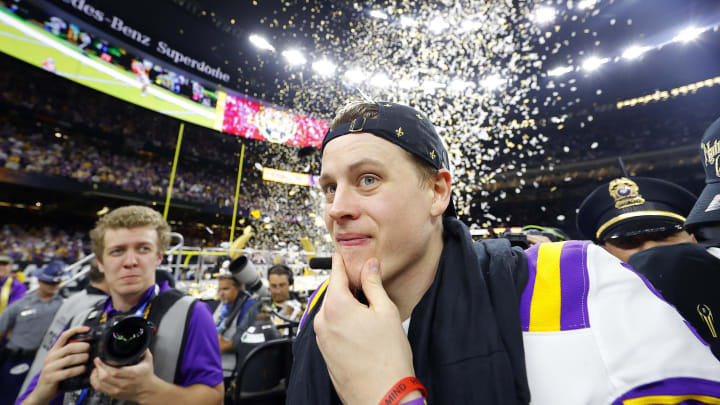 Not even Joe Burrow could've seen this coming. Two years after making the jump from Ohio State to LSU, the best quarterback for the best team in college football history took down his counterpart, once ranked three tiers higher than him per every recruiting system.
It's a story most well-informed writers would've thrown out. Burrow is the Rudy of his day, but with more baggage. Passed over in high school. Injured and eventually forgotten in Columbus. Not accomplished enough to transfer to schools like Texas A&M or Nebraska. Stuck with a head coach most of us can barely understand in a conference known for weeding out the pretenders. Great, just great.
We've all heard Burrow's story by now, including the doubters and the humble beginnings. Rehashing such points would be a detriment to everything he's accomplished so far, and the right to make us forget about these things, replaced merely by accolades.
Instead, Burrow's achievements begin with lofty promises and a team that consistently failed to live up to expectations. Heck, in Burrow's first season with the Tigers, LSU went a modest 10-3 and barely squeaked by UCF in the Fiesta Bowl. This included a nasty, disrespectful hit that threatened to knock our protagonist into a previous chapter.
It's an important note that LSU won that game (40-32, we might add), and rallied around their quarterback, because it's where his ascension to superstardom really began. Burrow came into camp the next year a changed man, understanding that if he didn't make the necessary adjustments under a new play-caller in the young Joe Brady, he'd be just another name passed over on sports-reference pages. A trivia question. A man who nearly lost his head in a bowl game.
Burrow is more than that, which we all understand well and good now. He carries his story with him and told it frequently along the way, including in an impassioned speech at the Heisman Trophy presentation. Burrow went off-script and gave us a rare look behind his facemask, at something most might assume has very little to do with on-field success.
What we didn't realize is it means everything. Burrow is more than a cookie-cutter amateur sports story the NCAA can use to fit their mold. Hell, he used the transfer rule to his advantage, not content with sitting on the bench just for the college experience. He wanted more, made something of himself, parlayed it into a likely No. 1 selection in next season's NFL Draft and took Division 1's two most coveted trophies with him on his way out. The man has a 2019-20 passing touchdown for every doubter he's ever had. That'd be 60, if my calculations are correct.
There's your script, Hollywood. I'd like royalty fees.