4 Players We'd Love to See in the 2020 NBA Dunk Contest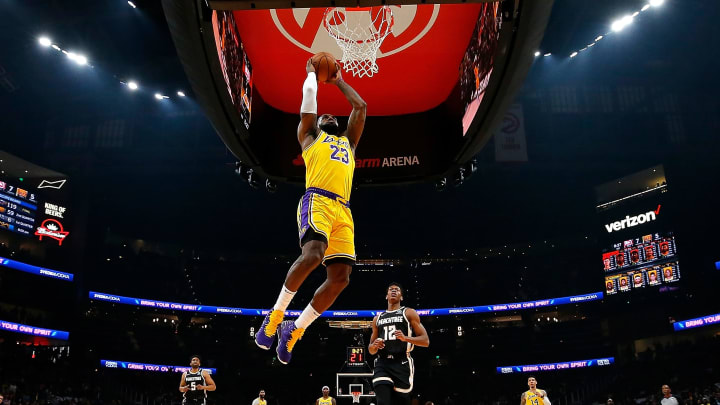 All-Star Weekend is right around the corner, which means that the Slam Dunk Contest is almost here. As always, we're expecting to see the rim rattling and some high-flying dunkers putting on a show.
Los Angeles Lakers' center Dwight Howard and Miami Heat small forward Derrick Jones Jr. have both already accepted their invitations to participate in the festivities, but there are still four spots available. Here are four players that we would love to see fill those vacancies.
4.

Donovan Mitchell
Donovan Mitchell has already expressed his interest in partaking in the Dunk Contest and would surely put on quite a show if he participates. Mitchell is known for throwing down emphatic in-game dunks, and with a nickname like "Spida" he could get pretty creative with some props or a costume. The explosive 23-year-old can throw down vicious dunks with the best of them, and considering his popularity and social media presence, he would be an ideal candidate.
3.

Zach LaVine
Zach LaVine would be a great "throwback" dunker to enter the contest and has officially received an invite to the event. LaVine won the Slam Dunk Contest back in 2015 and 2016, so watching the Bulls' guard steal the show once again would be a welcomed sight. The Chicago Bulls guard also featured in one of the greatest Dunk Contests of all time when he narrowly out-dueled Aaron Gordon of the Orlando Magic in 2016. He's shown off his creativity and poise on the big stage in the past, and NBA fans would love to catch another glimpse of the athletic guard doing what he does best.
2.

Ja Morant
Just like LaVine, the Memphis Grizzlies' rookie sensation has already received an invite to the competition but has yet to respond. Morant has thrown down multiple jaw-dropping slams this year, and almost threw down the dunk of the generation when he jumped over Kevin Love. Seeing this rookie in action would be something special and might give us a little taste of future dunk contests.
1.

LeBron James
In his 17-year career in the NBA, LeBron James has not once participated in the Dunk Contest, despite fans pleading each and every season. The dunks he throws down in game and during warmups are dunk contest-worthy, so putting him on the big stage would be a dream come true. It's a long shot, but there's hardly a fan across the country who would object to seeing LeBron throw down some huge jams on All-Star Weekend.