Giancarlo Stanton Delivers Clearly Frustrated Response After Suffering Latest Injury
By Dylan McCaffrey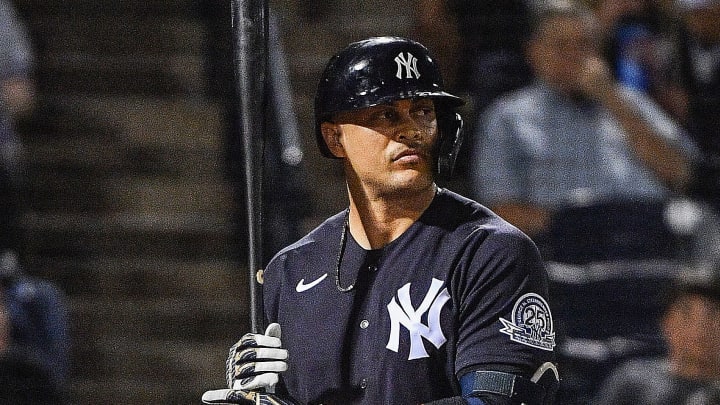 New York Yankees slugger Giancarlo Stanton / Mark Brown/Getty Images
The New York Yankees and Giancarlo Stanton are once again running into injury issues just before the start of the 2020 season. Stanton couldn't stay healthy last season, but Yankee fans were optimistic he would be able to return to his MVP form this year.
That all came to a halt when news broke that Stanton would potentially be missing the start of the season due to a strained calf. Add another guy to the injured list. It's clearly a frustrating turn of events for the veteran slugger and he sounds beyond upset.
Manager Aaron Boone said Stanton has a grade 1 strain and is very likely to open the regular season on the injured list, which is not the start everyone envisioned considering he played in just 18 games last year.
Stanton hit 38 homers and drove in 100 runs in 2018, which was his first year with the Yankees. Fans have since been hoping to see more of that, especially given the success they've had without him. Imagine what a healthy Stanton could do in this iteration of the Yankees lineup?
Instead, everyone's here wondering how much money is being wasted with Stanton sitting on the bench.
While the fans continue to moan about Stanton being back on the shelf, how about thinking about his feelings? The man is a professional baseball player and had a yet another season delayed due to an ailment. He wants to get back on the field just as much as the fans want him to.