VIDEO: Vicente Luque Survives All-Out Bloody War With Platinum Mike Perry in Instant UFC Classic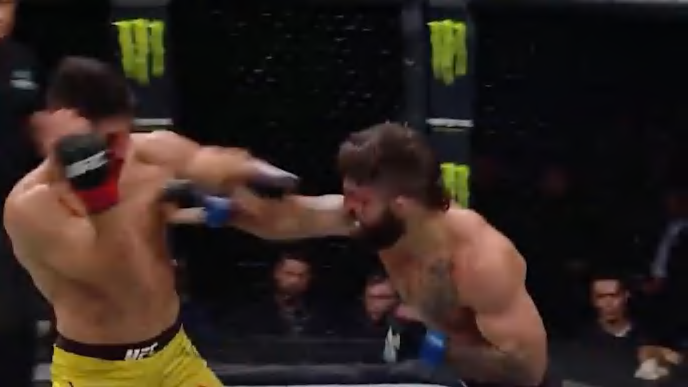 What. A. Fight. In the co-main event at UFC Fight Night Montevideo, "Platinum" Mike Perry entered as a narrow underdog against Vicente Luque. And what the fans got was a freaking bloodbath of epic proportions. Oh-my-goodness did they ever.
Time for some bloody Vicente Luque vs. Mike Perry highlights!
Platinum was out for blood early-- literally and figuratively.
And it wasn't too long before el sangre was literally flying around the Octagon.
As Luque gradually opened a cut on Perry's face deeper and deeper, the blood was suddenly pouring all over the place. It was a visceral, striking thing to witness.
But perhaps even more stunning was Perry's tough-as-nails resolve to negotiate his way out of Luque's hold and get back in business in Round 3.
By the final bell, there was anything but a clear winner. Both of these guys fought to a standstill in a stunning barn-burner of a fight. This is the kind of co-main that UFC dreams of.
And in the end, though Perry's nose was massively, ridiculously broken despite his spirit being fully intact, a split decision ultimately went in favor of Luque.
But don't let this take a single thing away from the heat Platinum showed on the night. The win is Luque's, but fight fans are the true victors here. What an absolute thriller in Uruguay.