VIDEO: Urban Meyer's Positive Comments About Cowboys Coaching Job Should Turn a Few Heads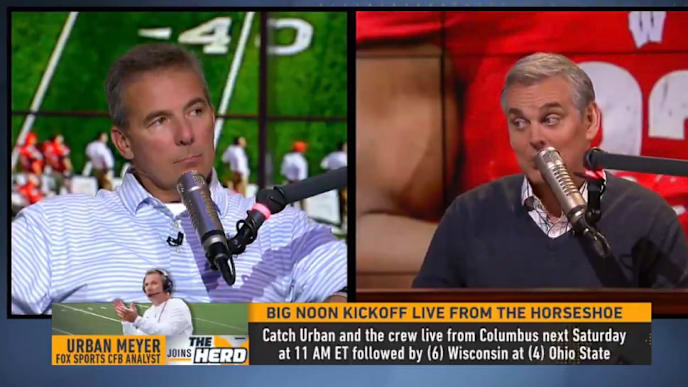 Could it be possible? Could Urban Meyer do the unthinkable? Could he actually be willing to coach in the NFL? Probably not, but let's fantasize for a second. During his appearance on The Herd, Meyer was asked a question by Colin Cowherd about the fact the Dallas Cowboys always seem to hire college football coaches, and how Oklahoma head coach Lincoln Riley could be drawing interest for the job. Meyer had this to say:
All right then, Urban. So you want to get back into coaching, huh?
Now, Meyer's always been in and out of the coaching rumor carousel throughout his entire career, starting his career as Bowling Green's head coach, continuing with the period of massive success he had with the Florida Gators and concluding with his announced retirement as Ohio State's head coach due to health concerns.
In between, he was one of the most successful college football coaches in the history of the game, having won three national championships and retiring with a coaching record of 187-32.
If Meyer's feeling healthy enough to get back into the coaching game, what other job would justify leaving his position as a FOX Sports analyst as much as the Dallas Cowboys head coach position?
Jerry and Stephen Jones haven't admitted it yet, but Jason Garrett has got to find himself on the hot seat, or at least on the verge of it. And when he's inevitably fired, who would be better suited to fill his vacancy than Urban Meyer?
Meyer's coaching legacy may not be completely written yet, and these comments indicate that he knows there's something special about coaching the Cowboys.