VIDEO: Tyler Wade Drops F-Bomb While Dousing Aaron Judge in Champagne After Yankees Clinch AL East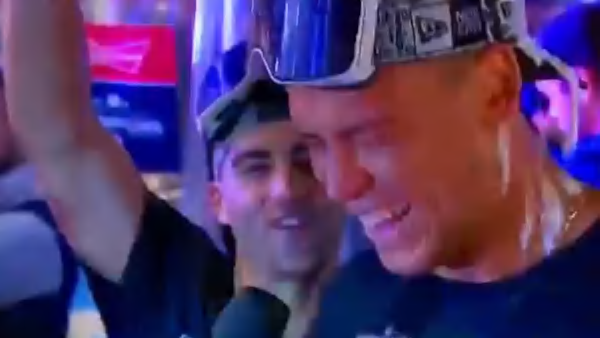 The New York Yankees had reason to celebrate on Thursday night. Not only did they get a 9-1 blowout win against the Los Angeles Angels, but they officially clinched the 2019 AL East crown. As is tradition in MLB, the team celebrates some bubbly and brewskis in the clubhouse. Yankees slugger Aaron Judge was giving an interview in a professional tone...until teammate Tyler Wade invaded it by dropping an F-bomb and dousing the Yankee giant with champagne.
Hey, once alcohol is consumed, cuss words are no doubt going to start flying, especially when it comes just minutes after clinching a postseason berth.
This is the Yankees' first division title since 2012 and their third consecutive postseason berth. With the Boston Red Sox collapsing less than a year after winning the World Series and the Tampa Bay Rays more than a handful of games back, New York's entrance into October baseball was a foregone conclusion.
The New York Yankees have their eyes set on winning their 28th World Series title in franchise history.