VIDEO: Steph Curry Gets Owned by 7-Foot High School Player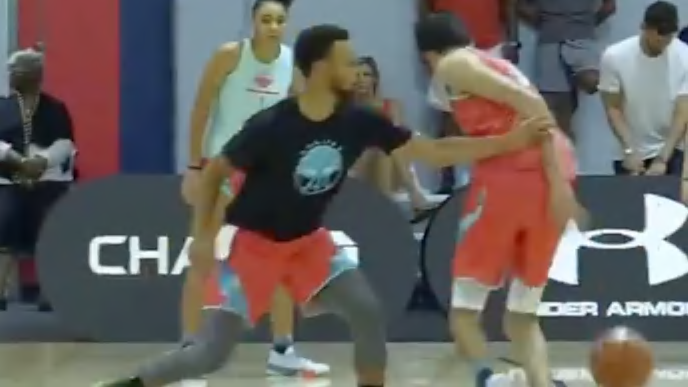 Golden State Warriors star point guard Stephen Curry has had a rough stretch the past couple months, losing the NBA Finals, Kevin Durant to free agency, Klay Thompson to injury, and now his ankles to a high schooler.
At Curry's sixth annual SC30 Select Camp, Minneapolis junior Chet Holmgren made a sweet behind-the-back crossover to get by the two-time MVP.
Holmgren, a seven-footer, has offers from schools like Cal, Baylor, Illinois, Iowa and Kansas, and is currently considered the No. 6 prospect in the class of 2021. So no shame in that, I guess?
Holmgren had a few more highlights from Curry's camp, including a swat of a Curry layup and a 3-pointer in front of the Baby-Faced Assassin. Curry made a point to answer, responding with a tough step-back trey.
Curry is following fellow splash brother Klay Thompson's lead in making headlines from embarrassing offseason moments, after Klay famously missed a dunk during his 2017 China tour.
With a revamped Warriors roster next year, hopefully Curry will channel his offseason mishaps and turn them into triumphs entering the 2019-2020 NBA season.