VIDEO: Longhorns Band and Jimmy Fallon Perform and Take Shot at OU During 'Tonight Show' in Austin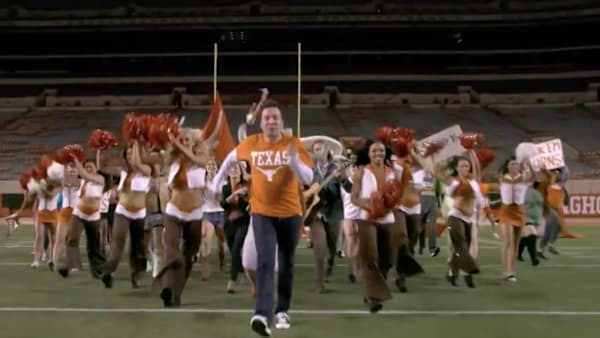 It appears the University of Texas has recruited its newest honorary alum. "The Tonight Show" host Jimmy Fallon took the program to Austin for one night only this week, and embraced everything the Longhorns had to offer. Most notably, he opened the show by changing the lyrics of John Denver's "Thank God I'm a Country Boy" to show off Austin and UT's culture, complete with a legion of Longhorns.
In the opening, Fallon led a crowd of UT supporters around Austin, making sure to get in a casual "OU sucks!" at a couple of Oklahoma fans.
It actually wasn't the only shot Fallon took at another school. During his monologue, he apologized for only being able to seat 3,000 students for the show, but then claimed that if they were looking for somewhere it'd be easy to get into, they'd be at Texas A&M.
We got another electric moment when the entire crowd did a version of "Hook 'em Horns" with lights on their wrists. Not to mention, there's the undeniable cool factor of a Matthew McConaughey, when Fallon states Austin is "alright, alright, alright" near the end of the song.
Fallon reportedly said he first got the idea of bringing the show to Austin because of UT's atmosphere on ESPN's College Gameday. With Texas football facing No. 20 Kansas State at home this weekend, he probably timed things pretty well.