VIDEO: LeBron James, Anthony Davis, Draymond Green and Klay Thompson Seen on 'Space Jam 2' Set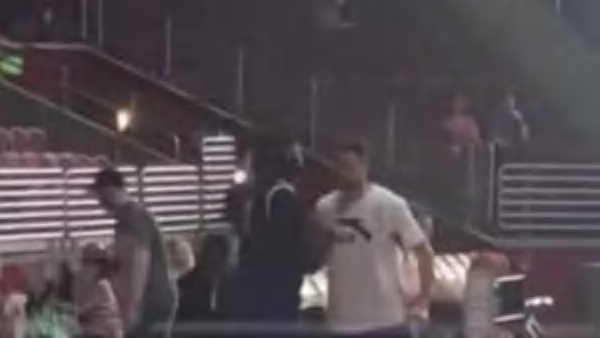 It's finally happening! After years of speculation and waiting, "Space Jam 2" filming is finally underway. LeBron James is leading the cast, but not much else has been revealed about the film until now. Pictures and videos captured by TMZ Sports show an array of NBA players with LeBron on the Space Jam set, including Draymond Green, Anthony Davis, Klay Thompson, and Damian Lillard.
LeBron brought in Anthony Davis, who probably wasn't to hard to get on set considering he will be joining the Lakers next season. And Klay Thompson, who had been speculated as a cast member previously, brought along teammate Draymond Green from the Golden State Warriors. Dame Lillard is riding solo as the only member of the Trail Blazers.
The biggest shock of the leak is definitely Thompson. Pictures show Klay on set still using crutches following his ACL tear that took him out of Game 6 of the NBA Finals. It's hard to imagine what part he will be able to play in the film considering his obvious restrictions.
It's still unclear as to what roles each of the stars will play in the remake or how the movie will be formatted in relation to the original.
But one thing's for sure: if these guys are locked in for filming, "Space Jam 2" is sure to be a hit.