VIDEO: Kawhi Leonard Perfectly Ends Speech to Raptors Fans With His Trademark Laugh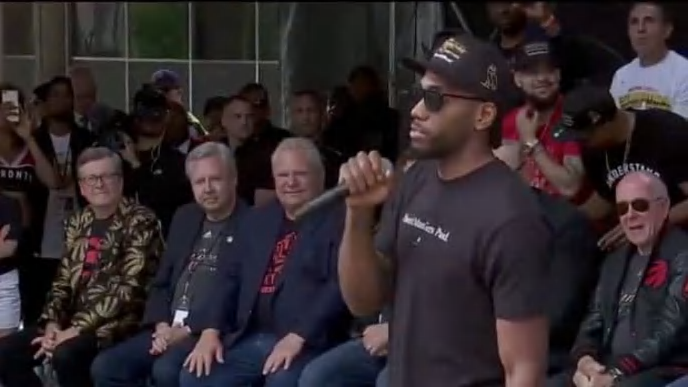 Kawhi Leonard keeps on winning over the hearts of fans in Toronto. After bringing the city its first NBA title in franchise history, Kawhi hasn't made it clear whether or not he plans to return to the Six or not. Whatever his decision is, it's more than clear that The Klaw and his signature laugh will always be welcome in Toronto.
Throughout the majority of this year's NBA season, we haven't seen much emotion out of Kawhi. However, now that the season is over and the Raptors are champions, he's finally giving the fans what they want.
Kawhi's laugh hasn't been heard since the Raptors introduced him prior to the start of the season. That signature, and kind of haunting, laugh turned into one of the biggest internet memes of the past year.
Despite his quiet character, Leonard gave Toronto fans what they were seeking, in the form of a championship as well as his iconic laugh. He is truly living up to his self-described status as a "fun guy."
Wherever Kawhi ends up playing next year, his laugh will live on forever, as will Toronto's first-ever Larry O'Brien trophy.