VIDEO: ESPN's 'Get Up' Crew Doubting Jalen Hurts is Laughable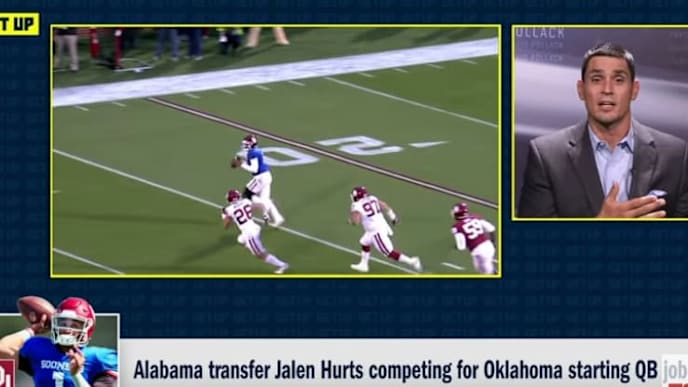 The standard for quarterback play at Oklahoma has been set ridiculously high over the last two years. Baker Mayfield and Kyler Murray won the Heisman in back-to-back years while lighting the Big 12 on fire. And while Jalen Hurts might not quite reach their level of play, the fact that ESPN's "Get Up" crew is doubting him is laughable.
The man deserves far more respect than he's getting. He's completed 62.9% of his passes in his college career for 5,626 yards and 48 touchdowns. Saying "don't expect anything close" to the recent quarterback play at Oklahoma is just plain reckless.
It's as though they didn't even watch him take over in the fourth quarter of the SEC Championship Game against Georgia. Hurts led his team to a National Championship as a sophomore and won SEC Player of the Year as a freshman. He couldn't live up to the talent of Tua Tagovailoa, but falling short against a future top-5 pick and one of the best QB prospects of the last decade isn't a knock on Hurts.
Sure, there are some lofty expectations that come with being the Sooners' quarterback, but saying he's going to struggle is disrespectful.
They better remember this moment when he's torching the college football world this year.