VIDEO: Cris Cyborg Pummels Felicia Spencer Again and Again for Unanimous Decision Win at UFC 240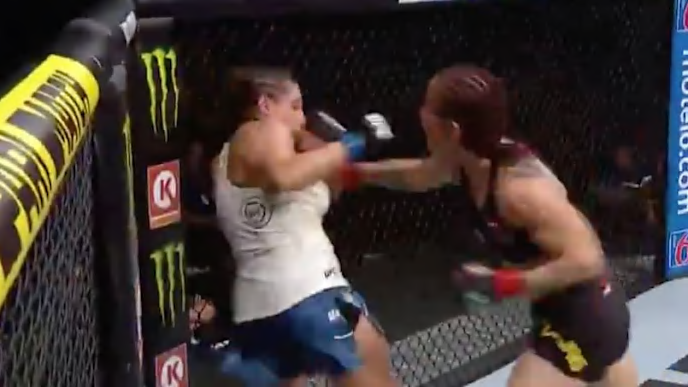 Cris Cyborg is back to winning ways-- but it didn't come easy. Saturday night at UFC 240 in Edmonton, the Brazilian bruiser was determined to regain her form after getting ground into a fine powder back in December thanks to one Amanda Nunes, but she faced a stern test: Felicia Spencer, who was something akin to an immovable object on the night. Let's go to the highlights!
Cyborg, real name Cristiane Justino, dictated the flow of the fight pretty much the whole way, but Spencer stood tall and absorbed a truly crazy amount of punishment only to shake it off and come back for more. She was overmatched in this one, but deserves real recognition for how resilient she was in the face of a relentless onslaught.
Cyborg must have known early on that this match was hers if she didn't try anything crazy, and that turned out to be the case. But her opponent didn't roll over. It was a battle to the end.
Ultimately, all three judges handed this one to the rightful winner. It's hard to argue with the result, which could very well be Cyborg's last in UFC given her frosty relationship with Dana White.
Of course, whether or not she bolts for Bellator after this weekend's festivities isn't important right now. Let us salute the tough-as-nails Felicia Spencer for seeing this thing through, and pat Cyborg on the back for returning to the win column with a prolific display.W