VIDEO: Bob Myers Announces Kevin Durant Suffered Achilles Injury in Devastating Emotional Scene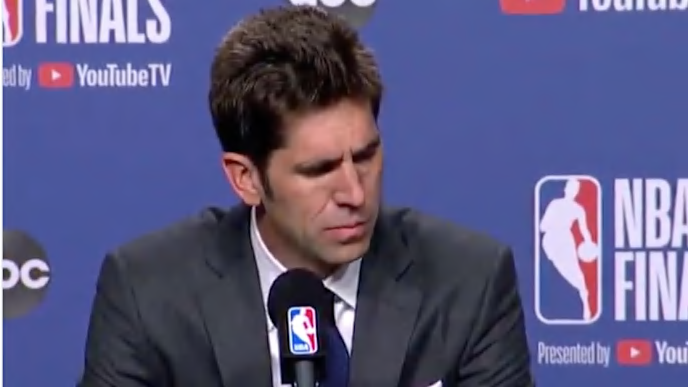 This was hard to watch. We already knew it was going to be bad, but this raw moment was downright gut-wrenching to witness. Golden State Warriors general manager Bob Myers went before the press following his team's skin-of-their-teeth victory in Game 5 of the NBA Finals against Toronto to save their season, but the mood could not have been more dire. Downtrodden. The man looked like a ghost as he fought through tears to deliver the news: Kevin Durant, who left the game with a lower leg injury and did not return, hurt his Achilles.
You can feel the emotional pain coursing through the Dubs GM's body as he steels himself to deliver the terrible, awful news. There's no way to know the extent of this Achilles injury just yet, but there's every reason to believe that this thing was significant.
WARNING: Do not watch the following clip if you're faint of heart. It's devastating.
It flashes one back to a year ago, when Warriors big man DeMarcus Cousins ruptured his Achilles as a member of the New Orleans Pelicans just ahead of free agency, missing out on a year of basketall and tens of millions of dollars. Durant, as everyone knows, is set to enter his own free agency this summer, and surely just saw his market value plummet in demoralizing fashion-- and the complexion of the whole NBA change in an instant.