VIDEO: Aroldis Chapman Outduels Vlad Guerrero Jr. in Epic 13-Pitch At-Bat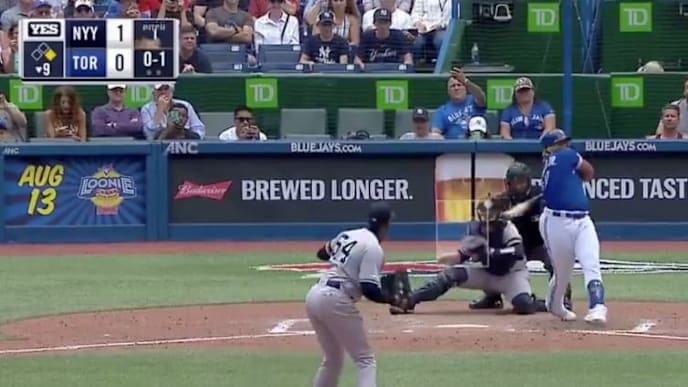 Vladimir Guerrero Jr. of the Blue Jays has used his Home Run Derby success as a launching point to prove he's the future of this sport, showing pitch recognition and the ability to dictate an at-bat far beyond his years. Though he lost this battle in the ninth against Yankees All-Star closer Aroldis Chapman, the 13 pitches he saw before ultimately ripping into a double play showed off every skill in the book, and included a monstrous foul ball home run on a hanging slider.
After being blown away by two fastballs to kick things off (97 and 98, with Chapman just warming himself up), Vlad Jr. proceeded to spoil every fastball from thereon out, rocketing the "change of pace" slider (arguably the only hittable pitch he saw until the final one) deep into left, barely foul.
Chapman induced the clutch double play, against all odds, helping to save Masahiro Tanaka's brilliant 8+ innings of shutout ball. Of course, before he was out of the woods, he gave up a 3-2 single to Bo Bichette (an at-bat that also began 0-2), and faced another full count against Cavan Biggio before whiffing him on the best slider of the outing.
Yeah. The kids have arrived in Toronto.