USA Today NFL Predictions Are Out for 2020 and They're as Ridiculous as Ever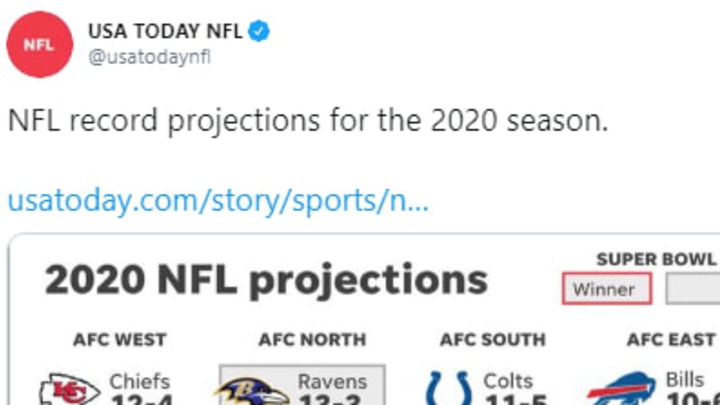 Every season, when USA Today releases its NFL projections, we can never figure out if they're being serious or just trying to raise the blood pressures of fans across the country.
Well, an early look at their latest team-by-team breakdown is sure to have countless folks out there calling their doctors.
While some picks make sense, as a whole, this is nothing short of a nightmare. The New York Giants drafted well, signed the right free agents, and will now go 2-14, for starters? Come the (expletive) on.
Who makes these selections every year and how do they still have a job? We already mentioned the Giants, but the Bears going 3-13? That's not happening. The Seahawks at 9-7? In what world does an offense led by Russell Wilson only win nine games?
Baltimore at 13-3 is laughable too. Sure, they blew up last season and Lamar Jackson had one of the best campaigns from a QB we've seen in a while. But defenses are going to wise up to LJ's moves. They're going to regress this campaign. Oh, and do we really think the Colts are going to win 11 games now that Philip Rivers, the king of mediocrity with the Chargers, is in town? What about Rivers' 2019 would make you think they'd improve, while the Titans would stay the same?
USA Today also has the Rams going 6-10, but they're already entering the season at 0-1 after releasing their hideous new jerseys. Correct that to 6-11, please.
From top to bottom, the publication has disrespected so many teams for what feels like the 1,000th time (and make sure you notice they actually predicted the Patriots to go 8-8). We'd say we're shocked, but we've grown used to it from them by now.