Trevor Bauer and Aubrey Huff Get Into Wholly Unnecessary NSFW Twitter Fight After Rob Manfred Implements MLB Season
By Michael Luciano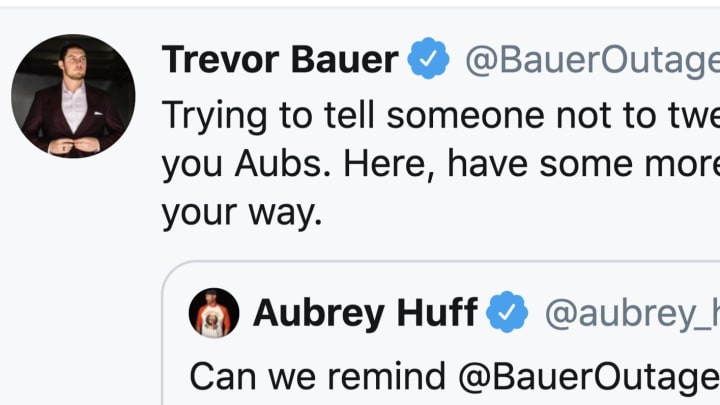 Trevor Bauer took a few shots at Aubrey Huff /
Cincinnati Reds starter Trevor Bauer, one of the most vocal MLB players in the game today, was furious about all MLB players lost after the league decided to implement a 60-game season. Bauer strangely biting his tongue drew the ire of former MLB All-Star and legendarily awful tweeter Aubrey Huff, sparking a NSFW back-and-forth between them.
After Huff called Bauer out, calling him an overrated pitcher due to his 4.04 career ERA, Bauer went for his throat, claiming that Huff is just seeking attention.
Huff responded by claiming Bauer is a complete narcissist, while Huff himself was a team player, a statement that is entirely up for debate. He ended his Twitter attack by calling Bauer a "cuck" and claiming he has low testosterone, for whatever that's worth.
Bauer compared Huff's deranged rant to word salad, insisting his Twitter activity is all about connecting with fans.
Huff tried to flash his two San Francisco Giants World Series rings, one of which he had absolutely nothing to do with, in Bauer's face. Bauer called them "participation trophies" -- considering Huff hit .192 in 2012 and only mustered one hit in the 2012 postseason, Bauer isn't completely out of order.
Only someone as universally reviled as Huff can get all of MLB Twitter united behind someone like Bauer.