Tom Brady Posts Bizarre Photo on Instagram That Barely Looks Like Him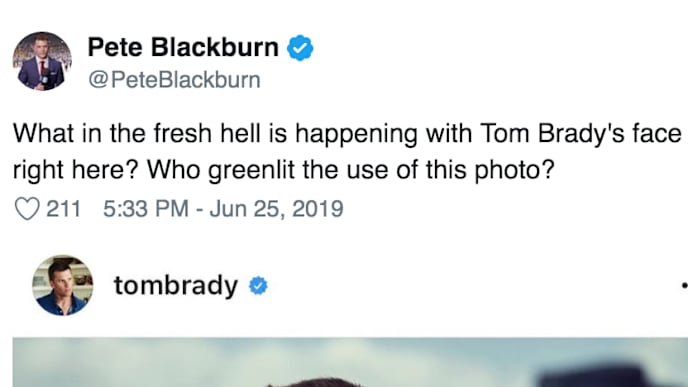 Tom Brady has somehow defied and made a mockery of Father Time in recent years, both on and off the field. The three-time MVP has played well above a Pro Bowl level and has aged like fine wine into his 40s, winning two of the last three Super Bowls and making men across the world jealous each time he steps in front of a camera.
However, Tommy's latest Instagram post has the internet buzzing in sheer confusion. And it's not for the reason you might think.
The pic looks nothing like Brady, and at first glance, it sure looks almost as if the six-time World Champ has major work done on his face this offseason.
Oh no. Who are you and what you have done with Tom Brady?
We once thought that No.12 had the social media game in his bag...but maybe we were dead wrong. He can't be out here posting content like this. Unless, of course, his goal is to terrify his enormous (6.2 million) following.
Brady was also semi-roasted for a recent picture he took with 80s pop star Huey Lewis in similar fashion.
It's not just us, right? These recent snapshots resemble nothing close to the movie-star good looks Brady used to effortlessly craft in pictures. The second one looks like your grandpa's friend Garth who does a lot of shed work.
We need an explanation.