Deshaun Watson Drops Another Cryptic Tweet and the Texans Should Officially Be Worried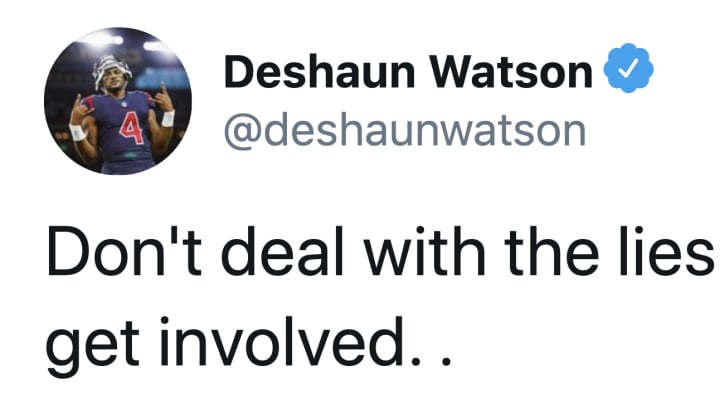 Bill O'Brien is still in the middle of systematically dismantling the Houston Texans, having overpaid for trade targets like Laremy Tunsil while sending stars like DeAndre Hopkins out the door for basically nothing.
Quarterback Deshaun Watson hasn't publicly spoken about about the horrific destruction of one of the most promising rosters in the AFC, but he's certainly mastering the Stefon Diggs technique of purposefully vague tweets. Watson latest tweet, which mentions "lies and frauds," seems like a veiled shot at the direction his coach/general manager's behavior over the last few months.
Watson, fresh off his second consecutive Pro Bowl appearance, saw the Texans part ways with Hopkins and Jadeveon Clowney in consecutive offseasons while failing to get a first-round pick in return. No wonder he seems frustrated.
Given this latest tweet and his prior one that mentioned how he "doesn't know how [I will] make it out of here clean", Texans fans are understandably biting their nails and sweating profusely when considering the idea Watson could potentially leave town.
Watson is listed by a few sportsbooks as the favorite to start at quarterback for the New England Patriots in 2021, implying that there's a chance his apparent frustration with O'Brien and the Texans could manifest into a potential divorce. Unless O'Brien suddenly wakes up and starts making nice with Watson, it's not a guarantee that he will be the franchise quarterback for the next decade in Houston.