St. Louis Archdiocese Asks for Cardinals' Blessing After Pope Francis Tweeted Saints Hashtag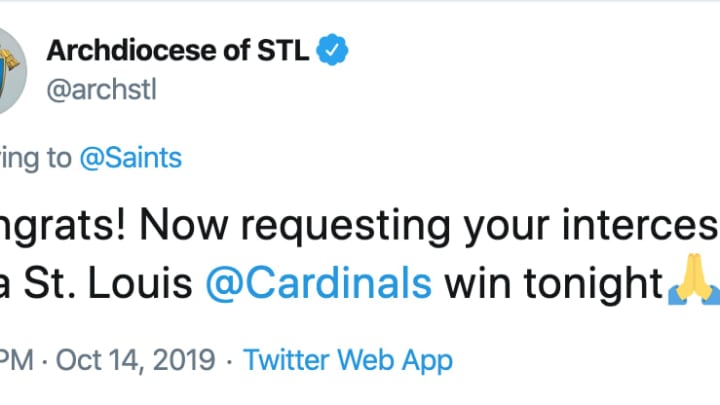 Pope Francis may or may not have accidentally blessed the New Orleans Saints to a Week 6 win on Sunday.
Whether or not the Pope and/or God actually had an impact on the game is not stopping others from trying to get their team blessed.
That includes the St. Louis Archdiocese, who Tweeted to the Pope on Monday ahead of the Cardinals' crucial NLCS Game 3 matchup against the Nationals.
After scoring a combined one run on four hits in the first two games of the series, it seems that the Cardinals may be in need of a higher power against the daunting Nationals rotation.
The last thing the Cardinals want to do is fall 0-3 in the best-of-seven series. The struggling offense will not be let off the hook with Stephen Strasburg starting for Washington, so Jack Flaherty will have to toss a gem.
St. Louis needs a victory but lack the momentum, so hopefully the Pope can come through for the Cardinals.