Rockets Inserting Russell Westbrook into Offense Really Isn't That Complex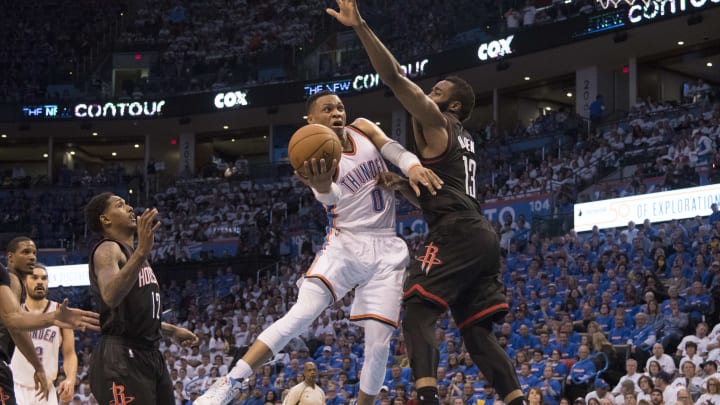 The Houston Rockets have put themselves in what seems like beautiful chaos. With the addition of Russell Westbrook to their roster, the Rockets now have two All-Stars and former teammates that average well over 20 shot-attempts per game and are used to having the ball in their hands.
Now some might say that despite the friendship, the Russell Westbrook/James Harden dynamic is impossible. And they may be right. But there is a way to add Westbrook into the rotation without creating total chaos on the court, and the Rockets have done it before.
Last season, Houston often staggered minutes and limited shared playing time between Harden and former point guard Chris Paul due to increasing tension and the desire for team control between the two.
Of course Paul and Westbrook are two different players with two different mindsets and different stat lines, but the game plan will work just as well. Just think about it.
There's no way both Harden and Westbrook can be on the court together for the majority of a game without the major adjustment of one or both of their games. It just wouldn't work. Every game would seem like two on five and a challenge of who could get that night's triple double, and the team would most likely suffer more than it would grow.
But if Harden and Westbrook rotate in with staggered minutes and share as little court time as possible, both players will be able to successfully maintain their court control and scoring mentality. Not to mention it could give the Rockets two former MVPs harmoniously averaging well over 20 points a game.
If both players can buy into this game plan then the Rockets will scarcely play a minute without an MVP caliber player running the floor and dominating the ball, which could prove an incredibly effective tactic.
If the dynamic works, we could be looking at the best duo in the NBA, even though it would be more like two solo stars. While Russ and Harden will inevitably be sharing the floor for at least part of every game, the Rockets would be wise to stagger their playing time in order to enable the stars to play their preferred style of basketball.