Rockets Officially Welcome Russell Westbrook to Houston and This is Really Happening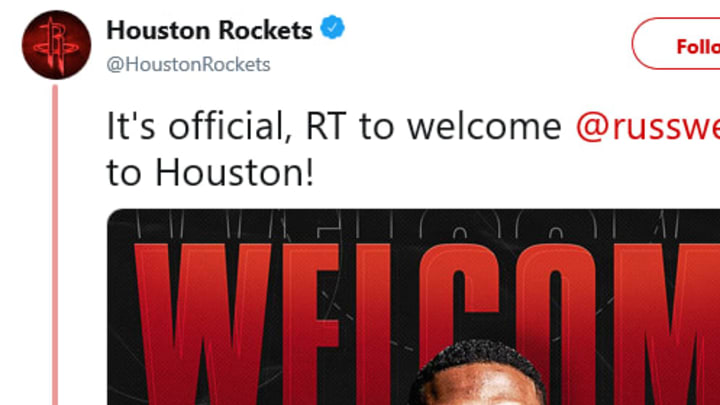 NBA fans were spoiled this offseason with the flurry of transactions. Just when they thought things would slow down, the Houston Rockets made quite the splash by acquiring star point guard Russell Westbrook from the Oklahoma City Thunder.
On Tuesday night, the Rockets made the trade official on Twitter with a first-look photo of Westbrook in a Houston uniform. No, Rockets fans, you're not dreaming. This is really happening.
Westbrook spent his entire career with the Thunder, but things all came to an end following the Paul George trade. With George heading to the Los Angeles Clippers, Westbrook no longer felt comfortable with the direction the franchise was heading.
With the writing on the wall, Westbrook and his agent demanded a trade, with his preferred destination being Miami or Houston, to reunite with former Thunder teammate James Harden.
Last season, Westbrook averaged 22.9 points, 11.1 rebounds, and 10.7 assists in 73 games.
Dynamic duos have become the new trend in the NBA. With the Brodie-Beard partnership, the Western Conference is going to be wild and competitive next season. We just have to see if Harden and Westbrook and still play alongside one another, as both have become incredibly ball-dominant players since their time in OKC.