Richard Sherman Slams Colts Fans for Booing College Teammate Andrew Luck in Brutally Honest Tweet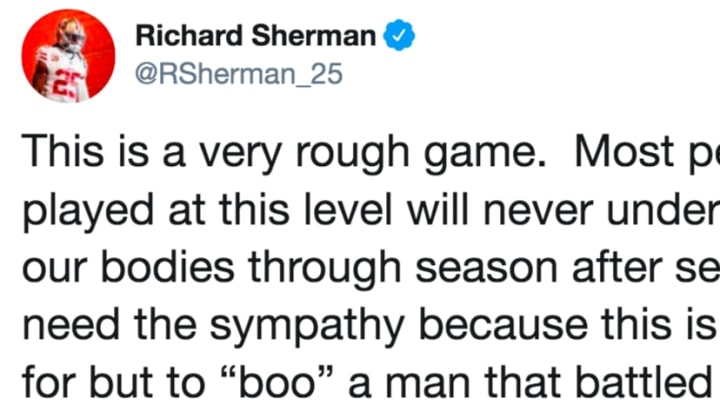 In an age where everyone is mincing their words, you can always count on San Francisco 49ers cornerback Richard Sherman to give it to you straight.
When Indianapolis Colts quarterback Andrew Luck announced his stunning retirement, a small segment of dumb Colts fans booed him as he walked off the field because a newly married 29-year-old with a laundry list of nightmarish injuries wanted to do other things with his life. Sherman, who played with Luck in college at Stanford, went in on those ungrateful fans, calling them "disgraceful."
That sentiment seems to be pretty uniform among current and former NFL players. Fans don't see Monday through Saturday, and the physical wear and tear that the game puts on your mind and body is unrivaled across all of American sports. Therefore, Luck has earned the right to hang them up whenever he wants.
Combine that with Luck's injury history, which includes a lacerated kidney and that infamous shoulder injury, and their decision to boo looks even more entitled and reprehensible given how much Luck has sacrificed for that team and that city.
Colts fans, for the most part, are an educated, passionate group. However, this small segment that booed a man that took over a 2-14 team and instantly made them winners are as spoiled as they come.