Red Sox Should Trade Chris Sale Instead of Mookie Betts and Start Fresh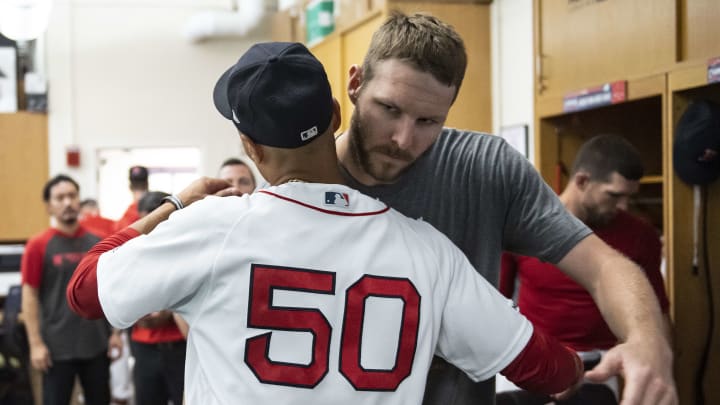 There are plenty of routes the Red Sox could take to achieve their goal of getting below the $208 million luxury tax threshold this offseason. All of them require some sort of painful sacrifice that both the team and fanbase likely don't want to endure.
The most obvious course of action, and perhaps the most widely-accepted one, is that they have to trade standout outfielder and 2018 AL MVP Mookie Betts simply because of how much money he'll command when he hits free agency in 2020.
This isn't the only option, though, and it might not even be the most desirable one. If anything, the Red Sox should consider trading Chris Sale instead.
Consider the extreme differences in their situations. Sale is entering his age-31 season and is due $145 million over the next five years. He's coming off an injury-riddled season in which he managed a mediocre 4.40 ERA. That's not much to write home about.
By contrast, Betts will be 28 in 2020 and entering his prime. He has put up seasons of 8.3, 5.3, 10.6 and 6.6 fWAR over the past four seasons, and since he entered the league in 2014, his 37.2 total fWAR ranks second in baseball. For some perspective, that mark trails only Mike Trout among all qualified position players.
Players of that caliber don't come around every day. Trading Betts would be a massive miscalculation.
It wouldn't be hard to find a trade partner willing to take Sale even with the injury questions, and with his money off the books, signing Betts to an extension would be much easier.
Trading Sale would also allow the Red Sox to get just a little bit younger in the starting rotation while keeping the key piece of the current core in the lineup. It almost feels like a no-brainer.
There are a lot of tough decisions Boston must make this offseason, but trading Betts doesn't have to be one of them.