Packers Ability to Protect Aaron Rodgers After Lane Taylor Injury in Serious Question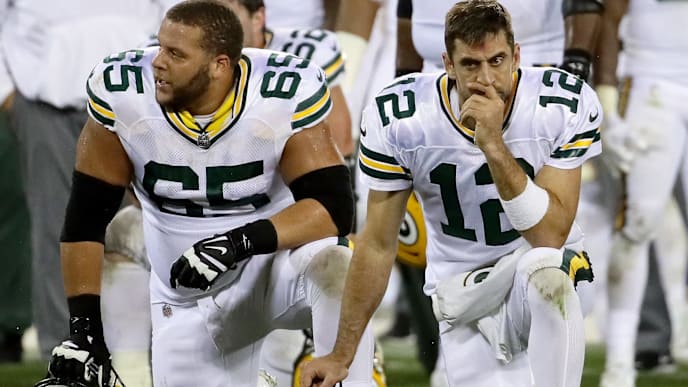 There is only one narrative surrounding the Green Bay Packers that has the most compelling say in the team's playoff chances. His name is Aaron Rodgers, the all-time great quarterback that the Pack's offensive line couldn't keep upright last season.
You know how it goes: if Rodgers is healthy, then there's no reason to believe that Green Bay couldn't go on to win the whole damn thing when all is said and done.
Well, those ambitions took a dire hit on Saturday, as stalwart left guard Lane Taylor was placed on injured reserve with a biceps injury, meaning he isn't eligible to return until the end of November.
No, the Packers' season is not over. It's far from it actually with a revamped defense, but Taylor's presence provided fans with confidence that Rodgers would have time to work his magic inside (and outside) the pocket.
In the meantime, rookie Elgton Jenkins will start in Taylor's place.
It's less than ideal and you better believe that Rodgers will be looking over his shoulder A LOT more than he's accustomed to until his trusted LG returns.