3 MLB Teams Most Helped by Expanded Playoffs in 2020
By Max Bevington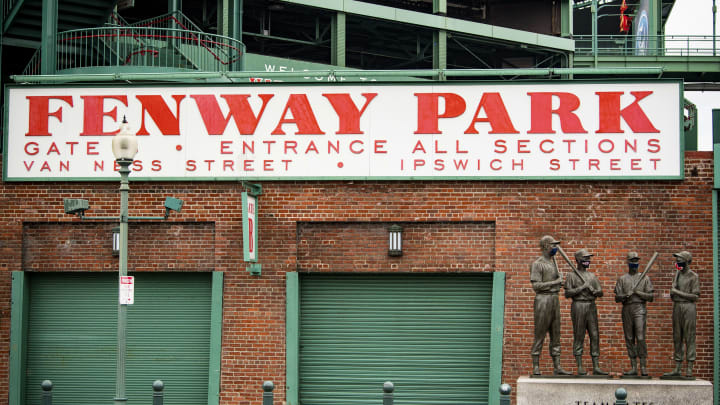 An expanded postseason was included in the MLB's most recent proposal for baseball in 2020, possibly helping middle-tier teams secure a playoff spot. / Billie Weiss/Boston Red Sox/Getty Images
MLB players and owners continue to negotiate just how to conduct the 2020 season. Specifically, there continues to be a discussion about how a shortened season -- or perhaps no season at all -- affects players and their teams. In the MLB's most recent proposal to resume play, there is a call for an expanded 16-team postseason; elite clubs may not end up deeply affected one way or another, but this trio of clubs stands to benefit from such a format.
1.

Boston Red Sox
With the departure of Mookie Betts and Brock Holt, more of the Red Sox batting responsibilities will fall on J.D. Martinez. / Brace Hemmelgarn/Getty Images
It is no secret that the Red Sox are going through a great deal of turnover due to the departure of president of baseball operations Dave Dombroski, former MVP Mookie Betts, and manager Alex Cora. Entering 2020, it is clear the the Sox are a slightly above average team that will have little chance of besting the Yankees or even the Rays to win the AL East, but would have every chance to crash the gates of the postseason with a broader field.
2.

Milwaukee Brewers
Christian Yelich, along with the newly added Brock Holt, should have the ability to carry the Brewers to a playoff berth in an expanded postseason. / Norm Hall/Getty Images
The Brewers stormed into the 2019 MLB playoffs after catching fire in the last month of the regular season. Despite that hot streak, it does not take away from the fact that Milwuakee played just about average ball for most of the season, and in the minds of many, they had no business beating out the Chicago Cubs for a Wild Card spot looking back to the beginning of September. The Brewers have great talent, highlighted by Christian Yelich, Lorenzo Cain, and a dangerous bullpen, but a division title is still a daunting task. That expanded playoff field is perfect for a team like this that could very much end up third in the NL Central under normal circumstances.
3.

Los Angeles Angels
Mike Trout continually produces for the Los Angeles Angeles, and if given some help can lead his squad to a postseason spot. / Masterpress/Getty Images
Over the last four seasons, the Angels have failed to achieve a winning record. The reason for that is clear, as the whole team may as well be a one-man-band behind Mike Trout when Shohei Ohtani is hurt. Trout has won AL MVP two out of the last four years, but his team continually musters a lackluster record. If Trout is able to receive some help from Ohtani, the 2018 AL Rookie of the Year who faced an extended recovery period from Tommy John surgery in 2019, it is not unthinkable that the Angels can put together a record slightly above .500 to secure a spot in an expanded postseason field.