MLB Should've Found Some Way to Punish Players Involved in Astros Scandal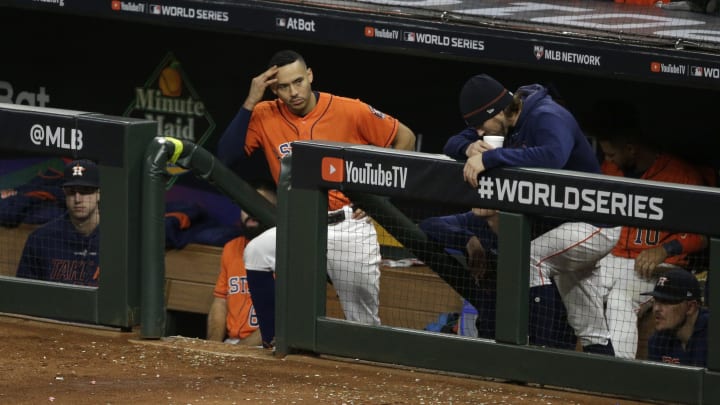 Major League Baseball hammered the Houston Astros on Monday afternoon. After a lengthy investigation, the MLB suspended manager AJ Hinch and general manager Jeff Luhnow for one year, took away the Astros' first- and second-round picks in the 2020 and 2021 MLB Drafts, and fined the organization $5 million.
While that's all well and good, how could the league not find a way to discipline the players involved in the scandal?
Let's preface by saying no, the entire team shouldn't be suspended simultaneously. It just feels weird that the players who participated in the devised plan by then-bench coach and current Boston Red Sox manager Alex Cora are getting off the hook. What about team captains? Or a guy like Jose Altuve who won the MVP award in 2017?
Commissioner Rob Manfred stated in his investigative report that he finds it "difficult and impractical" to hand discipline to the large number of players involved, especially considering a good amount of them play for different teams as of 2020.
Yes, the number of players required for discipline is extravagant, but still, you can't just them get off scot-free. Hand the members of the 2017 athletes fines or small suspensions for their roles. Something...anything!
Just like AJ Hinch, the players should be held accountable for not reporting the cheating to Hinch or Luhnow, especially the more veteran figures. The only person to do so was Mike Fiers...two years later, and he wasn't on the team anymore. Guess that World Series victory really made them forget about their morals. Because hey, you got a ring, so who cares, right?!?
What kind of precedent does that set for MLB? If you're a player and use ridiculous means to compromise the integrity of the game, you won't receive punishment. Good to know.
While Houston Astros players escaped punishment, they now have to live with the fact that their actions got their general manager and skipper fired, and their World Series victory is forever tainted.
Good luck living with that guilty conscious, boys.