MLB Has Unique Opportunity to Punish Astros Even Further With Texas Expected to Allow Fans at Games
By Michael Luciano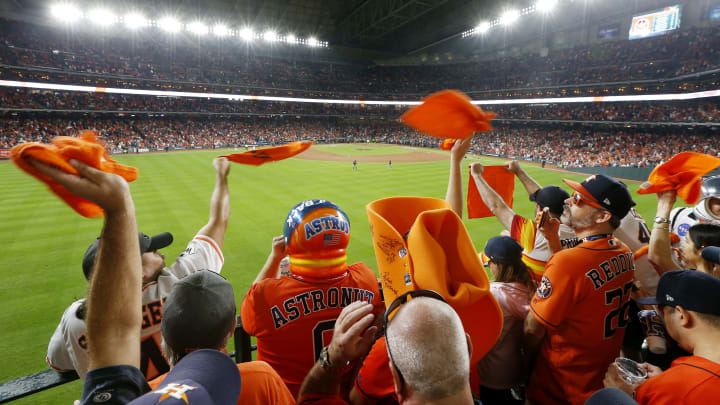 Minute Maid Park, home of the Houston Astros / Tim Warner/Getty Images
Despite the fact that this country is very much in the middle of the coronavirus pandemic, Texas governor Greg Abbott is adament about reopening and getthing things back to normal. It feels a bit misguided, but he's now allowing stadiums in Texas to be filled up to 50% capacity, a sharp increase from the 25% he insisted upon a few weeks ago.
If teams like Jim Crane's Houston Astros will indeed play in a half-full stadium thanks to Abbott's green light, the league could use this as a way to get back at the Astros for their sign-stealing infractions. Perhaps the revenue generated at the gate could be divided amongst the rest of the league, so the Astros can't benefit while the rest of the teams suffer.
The league has tried almost everything short of stripping the championship away from the Astros, and nothing seems to have adequately stung that franchise into any semblance of contrition.
Maybe a nice little hit to the wallet might finally help the Astros realize the gravity of what they did.
The Astros think that they might be able to slip out the back door without feeling the full wrath of the league or opposing fanbases. If the other owners dig their heels in hard enough, they could have their way and stand to take more from the franchise that disgraced the league for the last three years.