Max Scherzer Destroys MLB's Billionaire Owners With Latest Comparison
By Michael Luciano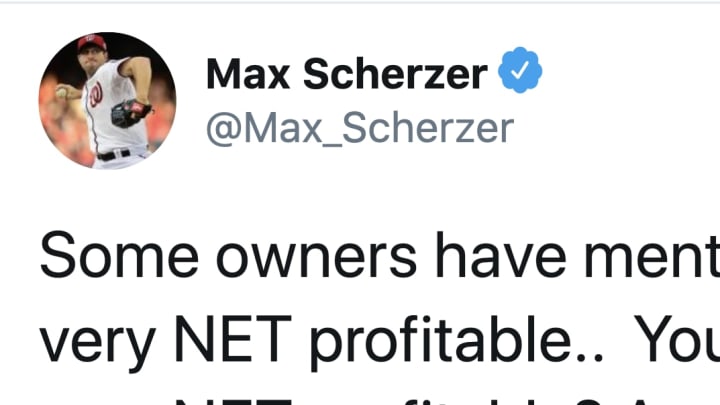 Max Scherzer is fed up with billionaire owners
Washington Nationals starter Max Scherzer has been one of the most vocal participants of the two warring parties currently butting heads over a return to baseball, and he lashed out at any owner trying to cut costs and make the season as short as possible for financial reasons during the MLB Draft Wednesday night.
Scherzer, who has had no problem going after ownership, fired off another incendiary tweet, claiming that big companies like Amazon aren't always as "net" profitable as many expect. If the owners are worried about making a net profit, owning an MLB team might not be the best business venture for them.
While it is true that every team not named the Miami Marlins turned a profit in 2019, Scherzer is right in asserting that owning an MLB team does not often provide owners with the financial return they seek year in and year out. Ever seen a gross profit margin, MLB owners? This profitability angle was a clear attempt to spin things -- if any owner wouldn't want a piece of Amazon, they can go ahead and get out of here.
Worrying about saving every last dollar in a time like this is exactly what has Scherzer, players, and fans that haven't seen a single game of baseball yet this season so enraged.
Most owners don't buy a sports team because they want to lead them to championships. They get into it so that their net worth will be bumped up a few million dollars and so they'll have something to brag about when they rub shoulders with other billionaires. That greed and the mindset that an entire MLB franchise is just another business in their portfolio is one of the main reasons owners are having trouble agreeing on a deal with Scherzer and the players.