Matt Barnes Rips Rudy Gobert in Instagram Comments Over His Antics Regarding the Coronavirus
By Karl Rasmussen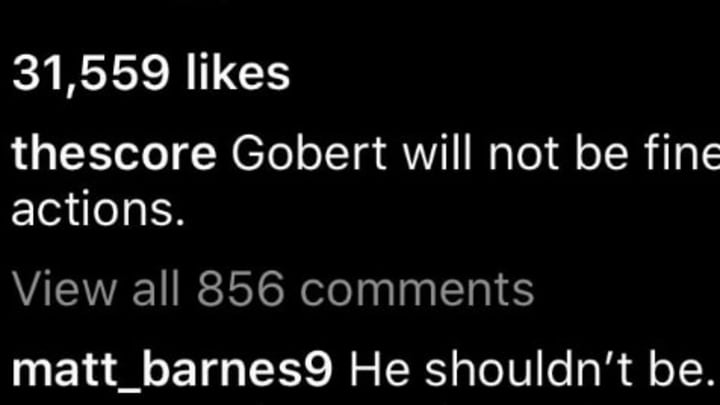 Former NBA player Matt Barnes weighs in on Utah Jazz C Rudy Gobert's coronavirus diagnosis. /
Rudy Gobert has faced a ton of flack after his careless antics regarding the coronavirus ironically backfired and resulted in the indefinite suspension of all NBA operations.
Among the fans joining in the outcry for Gobert's head was former NBA player Matt Barnes, who didn't hold anything back when ripping apart the Frenchman online. While commenting on an Instagram post regarding Gobert's positive diagnosis, Barnes got extremely assertive, suggesting someone needed to "slap the sh**" out of him.
Interestingly enough, Barnes seems to have supported the notion that Gobert does not deserved to be disciplined by the league. However, the former NBA player clearly thinks the Jazz center deserves a different form of punishment. Whether or not Barnes himself would be willing to issue that remains to be seen.
While Gobert has certainly received his fair share of criticism from fans and NBA talking heads, Barnes' comments are among the harshest we've seen, as the 40-year-old left nothing to the imagination with his aggressive remarks.
Now with a third player being diagnosed with the coronavirus, the chatter regarding Gobert's foolish behavior only stands to intensify. Barnes has said his share, and he likely isn't the only one feeling some level of hostility towards Gobert right now.