Indians' Yasiel Puig Reveals He Became an American Citizen During His Recent Suspension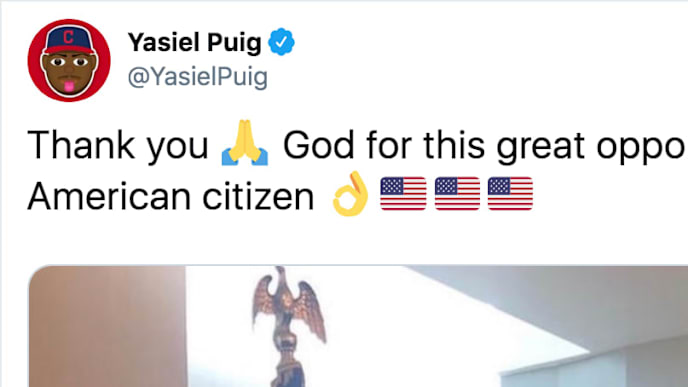 Yasiel Puig is putting his unexpected time off to good use.
While serving his three-game suspension for his involvement in a brawl in his last game as a Cincinnati Red, the Cleveland Indians outfielder became an American citizen.
The red hair and the miniature flag really work wonders in making this picture perfectly encapsulate Puig's quirky personality.
Puig endured a long and arduous journey to make it to the United States, let alone become a citizen.
The Cuban native tried to defect to Mexico 13 times in order to play baseball in order to sign a major league contract. He was the subject of human trafficking, kidnapping and had plenty of life-threatening experiences.
It takes about six months to complete the citizenship process, so to see his hard work and determination finally pay off is extremely heart-warming.
He joins Carlos Santana, Oliver Perez and Hanley Ramirez as the fourth Indians player to become a citizen this season alone.
And now that he's gotten this squared away, he can look forward to joining his teammates again as they continue their push towards the postseason.