Brett Gardner Needs to Figure Out a Better Way to Control His Temper for the Sake of Yankees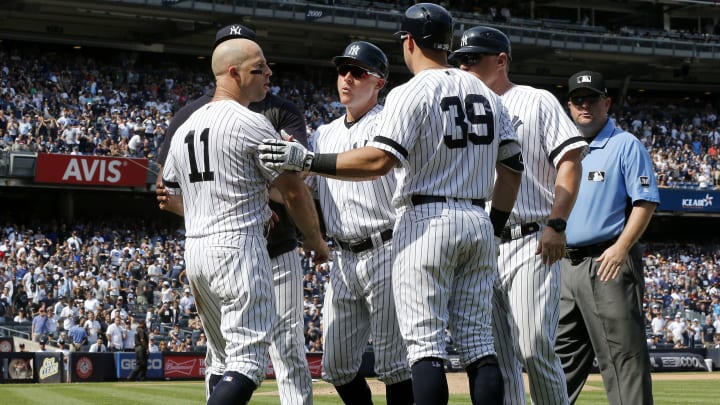 The New York Yankees have created a reputation of being "savages in the box" thanks to the infamous tirade from skipper Aaron Boone. But things got out of hand on Saturday, during which Boone, CC Sabathia and Brett Gardner get tossed from the game at Yankee Stadium.
This is the second time that Gardner got ejected in the matter of a week, and while the first time he was wrongly accused of doing something, his ejection on Sunday stemmed from him slamming his bat on the dugout roof. It's just dumb at this point.
Gardner mentioned that banging his bat in this manner is meant to fire up the team. While that's all well and good, the umpires don't like it, and quite frankly, it's just not behavior a major leaguer should be exhibiting, especially on an MLB-leading ball club.
That's believed to be the reason why he was ejected in Toronto by Dan Iassogna (or at least a factor that contributed in the wrongful tossing), causing Gardner to explode on the field and having to be physically restrained from making contact with the ump.
On Saturday, umpire Phil Cuzzi physically showed Gardner why he was being forced to exit the game.
Look, the game has changed, in which MLB's stars are encouraged to show their personalities and wear their emotions on their sleeves. That's fine and all, because it makes the game more entertaining, something the league has desperately trying to do for years.
However, this isn't that type of expression. Gardner needs to grow up. He's one of the veterans and clubhouse leaders on this team.
It's time for him to find another way to motivate the team.