Baker Mayfield Puts Kyler Murray in His Place With Playful Twitter Jab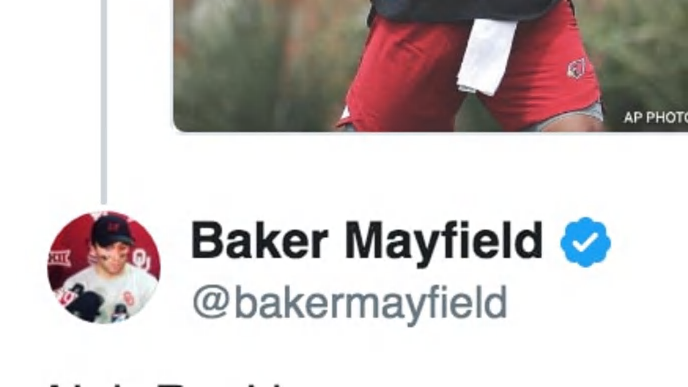 The last two first overall draft picks in the NFL Draft have much more in common than simply their draft slot. They both played for the Oklahoma Sooners, and won the Heisman Trophy in their last season in college, operating out of the QB position.
On Wednesday, a Sooners news page tweeted out two pictures, one of Kyler Murray of the Arizona Cardinals, and one of Baker Mayfield of the Cleveland Browns.
Both quarterbacks had on the same tinted visor for their helmet, which led Murray to tweet at Baker, telling him to switch it up.
Mayfield then responded to Murray, establishing his authority over the most recent No. 1 pick.
The simple response of, "Nah Rookie" from Baker not only reminds Murray of who was here first, but also shows that Baker will not be changing his look anytime soon.
The now second-year quarterback set the football universe on fire in his rookie season, where he set the rookie touchdown record without even starting the first few games for the Browns.
The two former Heisman winners and Sooners standouts will face off head to head in a Week 15 matchup in Arizona. The loser will likely have to get rid of the tinted visor and give the winner the sole rights to the darker look.