Antonio Cromartie Hilariously Takes Jab at Jets on Twitter Amid GM Search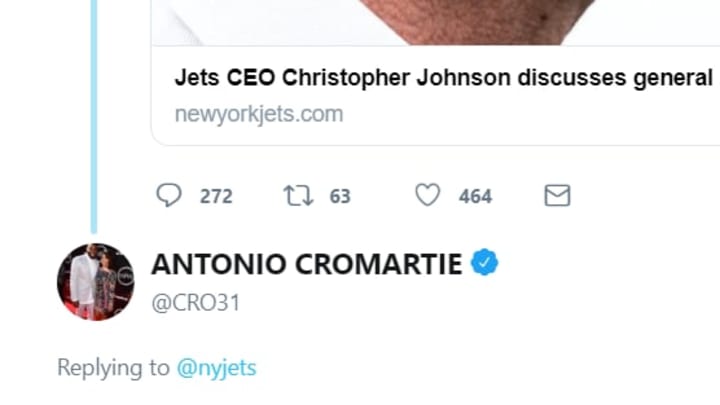 The New York Jets organization seemed to have righted the ship with their most recent off-season retools. They signed big named players and drafted well, and even hired their new coach in Adam Gase.
But then, as is often the case with the Jets, all that they built began to collapse.
The Jets fired GM Mike Maccagnan after letting him build the roster for the upcoming season, and will now hand it off to whoever will replace him. New York is still searching for the best general manager for their franchise, but one former Jet isn't confident that they'll find a good fit, and he voiced that opinion on Twitter.
Antonio Cromartie, a former NFL cornerback, replied to a tweet from the Jets official Twitter, in which they shared an article from their website with a promising quote from their CEO.
CEO Christopher Johnson stated that they are going to "find the right person" to take the reins of the organization. Cromartie does not seem as hopeful, replying with a highly sarcastic "Yeah right" remark.
The Jets organization has not been regarded as high-class throughout the NFL lately, but showed promising signs of turning it around when they signed Le'Veon Bell and CJ Mosley in free agency and drafted Quinnen Williams.
The Jets then decided to mitigate their fan base's happiness by firing Maccagnan out of nowhere, or perhaps months too late, and return right back to their dysfunctional label. The Jets appointed head coach Adam Gase as their interim GM, and have even been linked with Peyton Manning for a front office role.
The Jets continue their search for a new general manager, but when will they shake their dysfunctional ways, if ever? Cromartie doesn't think they'll find a good fit this offseason, especially given the turmoil surrounding the job.