Angels Employee Reportedly Told DEA Team Knew About Tyler Skaggs' Opioid Use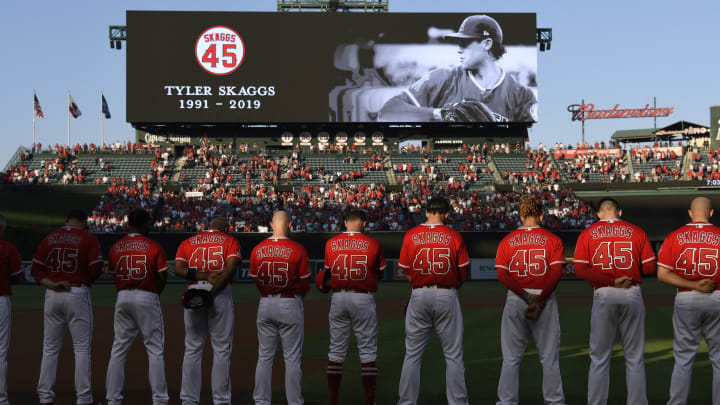 Seattle Mariners v Los Angeles Angels of Anaheim / John McCoy/Getty Images
Back in July, the baseball world was stunned when it learned that Los Angeles Angeles pitcher Tyler Skaggs passed away in a hotel room out in Texas while the team was on the road.
When the autopsy results revealed the next month that Skaggs died because of a combination of fentanyl, oxycodone and alcohol that led to him choking on his own vomit, this story became even more tragic.
But now it's taken another turn.
According to a report by Outside the Lines, a public relations employee for the Angels, Eric Kay, told the DEA (Drug Enforcement Agency) that not only did he abuse opioids with Skaggs for years, but that the team knew about Skaggs' addiction.
Kay also told investigators of five other players who he believed were using the drugs while with the Angels.
One of the more concerning developments is that some people in the Angels organization reportedly knew about this and did not take the necessary steps to get Skaggs and others help. That includes former Angels vice president of communications, Tim Mead, who is now the president of the Baseball Hall of Fame and Museum in Cooperstown.
Kay told investigators that he mentioned Skaggs' problem with Mead in 2017, while also saying that a second Angels employee was told about this.
There is much to be made of this entire ordeal, and while we all continue to mourn the loss of Skaggs, the Angels organization will have to address this latest report.