Aaron Judge Appears to Have Deleted His 2017 Instagram Post Congratulating Jose Altuve on MVP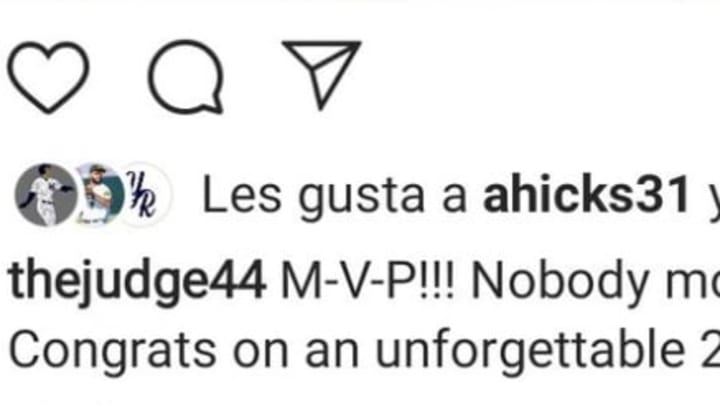 The 2017 AL MVP race was one of the most entertaining in recent memory. New York Yankees slugger Aaron Judge's historic rookie campaign put him in second place in the race, but the Houston Astros' Jose Altuve's overall consistency put him over the top to overtake Judge and earn the honor.
Judge showed great sportsmanship once Altuve was announced as the MVP, as he posted a congratulatory post on his Instagram for all to see.
However, on the day the mighty fist of the MLB Commissioner's Office came down upon the Astros, punishing them for sign-stealing during their 2017 championship campaign, it seems as though Judge might have deleted his post from WAY back in the day.
Altuve's 2017 MVP campaign was fantastic; he hit .346 with on-base percentage of .410, slugging .547. Judge, meanwhile, slashed .284/.422/.627. Many Yankees fans felt as though Altuve robbed Judge of his MVP trophy, and we now know his spectacular season was assisted by cameras relaying opposing teams' signs to the Astros dugout, as Judge overtook Altuve in most offensive statistical categories.
On Monday, the Astros were punished harshly for their offenses, as MLB suspended Astros general manager Jeff Luhnow and manager AJ Hinch (both were subsequently fired), stripped them of their first and second-round draft picks in the 2020 and 2021 drafts, and fined them $5 million. After the punishments came down, it seems Judge deleted his post.
Is the 2017 MVP now Aaron Judge? Or is it still Jose Altuve*?