5 Biggest First-Half Surprises of the 2019-20 NBA Season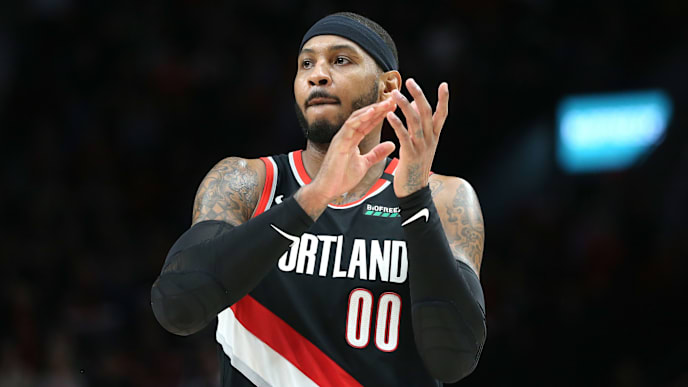 The 2019-20 NBA season has passed its halfway point and the All-Star Game is rapidly approaching. As with any season, there have been some major surprises up to this point. Five in particular stand out as things that may have been hard to believe at the beginning of the year.
5.

Golden State in Dead Last
Kevin Durant leaving Golden State meant some change was in order this year. But a 10-36 record through 46 games? That was not the plan. The Warriors have the worst record in the entire NBA, though that has come without Klay Thompson and Steph Curry for most of the year. Still, this is a shocking turn of events for a team that went to five straight NBA Finals. The tandem of D'Angelo Russell and Draymond Green, who have both dealt with their share of injury as well, has not been enough to propel the Warriors to many W's.
4.

Carmelo Anthony's Portland Resurgence
Carmelo Anthony's career appeared as good as done prior the year. The Houston Rockets gave up on him a year ago and no one risked taking a chance on him after that. Finally, the Trail Blazers decided to give it a shot, and Anthony has responded by averaging over 16 points per game. He is moving around like he is 25 instead of 35 and is averaging 32 minutes per game. He's rejuvenated, and this year's production could lead to him sticking around in the league a couple seasons longer.
3.

Brandon Ingram's Breakout Year
The New Orleans Pelicans haven't been a complete snooze-fest without Zion Williamson thanks to a breakout year from Brandon Ingram. The fourth-year player is thriving in New Orleans after being traded from Los Angeles, and may have the Lakers regretting including him in the Anthony Davis deal, instead of Kyle Kuzma. He is averaging over 25 points per game along with more than six rebounds and four assists. Ingram deserves an All-Star nod and is playing himself into a huge contract towards the end of his rookie deal.
2.

Heat Are East's No. 2 Seed
The Miami Heat have been a pleasant surprise this year. The team is off to a 31-14 start, good enough for second in the Eastern Conference. Jimmy Butler has fit in nicely, rookie Tyler Herro has been a gem, Kendrick Nunn appeared from what feels like thin air and Bam Adebayo is making a name for himself as an elite big man. The Heat haven't won a playoff series since the 2015-16 season, but this current team looks poised to make a deep run, and they have the right mentality to continue to surprise their doubters.
1.

Luke Doncic Already Being a Superstar
Luka Doncic was expected to be a good player, even a great player. But no one thought he would be this good, this soon. Doncic is only 20 years old and is near the top of the NBA in both points and assists. His line of 29 points, 9 rebounds and 9 assists per game is an elite mark and, and he's still only in his second year in the league. The kid has the makings of a future MVP, and his first half has been an absolute thrill to witness.