4 Teams That Should Trade up for Tua Tagovailoa After Positive Medical Update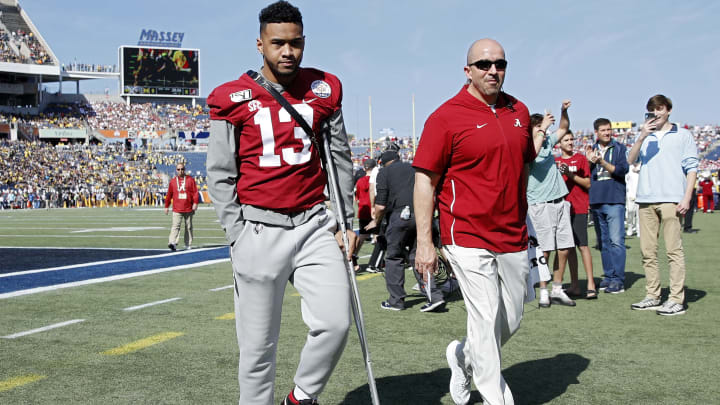 On Monday, doctors released an update on Tua Tagovailoa's recovery from November hip surgery, and reports indicate that it was as reassuring as possible.
The heralded NFL prospect won't be cleared to resume football activities for approximately a month, but if the hip continues to heal at its current pace, Tagovailoa will likely be in for an equally-encouraging medical exam at the Combine in a few weeks.
At this rate, it's reasonable to presume that drafting the former Alabama signal caller comes with much less risk than it seemed it would in the immediate aftermath of his injury. With that in mind, let's highlight a few teams in need of a QB that should trade up and draft the Hawaiian sensation.
4.

Indianapolis Colts
This was a toss-up between the Colts and the Raiders, but we fully expect Las Vegas to use the five picks that they have in the first three rounds to rebuild their dismal defense. Enter Indianapolis, who might just be in the market for a QB after Jacoby Brissett struggled with consistency in 2019. The Colts' offensive line has already been rebuilt, which will cast away any doubts about Tagovailoa's supposed fragility. Positioned with the No.13 pick, Indy will have to cough up a significant return package, but Tua's mesmerizing tenure in Tuscaloosa proved that he'll be worth it.
3.

Miami Dolphins
With Josh Rosen's confined ceiling becoming all the more apparent in 2019, 37-year-old Ryan Fitzpatrick projects to be the starting QB in Miami next season. After that, the Dolphins successor should be ready to take over the reins, and in our eyes, that should be Tagovailoa. Already positioned with the No.5 pick, Miami won't have to give up the farm to trade up to either No.4 (Giants) or No.3 (Lions). Whatever's necessary.
2.

Los Angeles Chargers
The Chargers have a lot to sort out before April 23. Slated to have the No. 6 overall pick, they could easily hold serve and select Oregon gunslinger Justin Herbert, assuming he's still available. However, Tua's health update changes everything. With Los Angeles officially divorcing from Philip Rivers, the team needs a quarterback. The roster is already loaded with talent, so trading up to the No. 3 (Lions) or No. 4 (Giants) spot won't come with much risk. We're not saying that Chargers should hand Tagovailoa the keys to the franchise straight away, but a year or two learning under a veteran like Tyrod Taylor with those offensive weapons? General manager Tom Telesco should be licking his chops.
1.

Carolina Panthers
The Kyle Allen experiment was fun, and almost deceived fans into thinking it had a future in Carolina. However, the Panthers' eight-game skid to end the 2019 season proved that the Houston product isn't cut out to be a starting quarterback in the NFL. With the latest buzz indicating that Cam Newton will NOT return next season, it makes all the sense in the world for Carolina to trade up from No. 7 and into the top four. Do Panthers fans really want Will Grier as their gunslinger of the future? Now that Ron Rivera, Luke Kuechly, and Greg Olsen have all moved on, why not start over entirely with Matt Rhule and Tagovailoa as the faces of the franchise?