3 Teams Reportedly Most Likely to Go After Tom Brady in Free Agency Revealed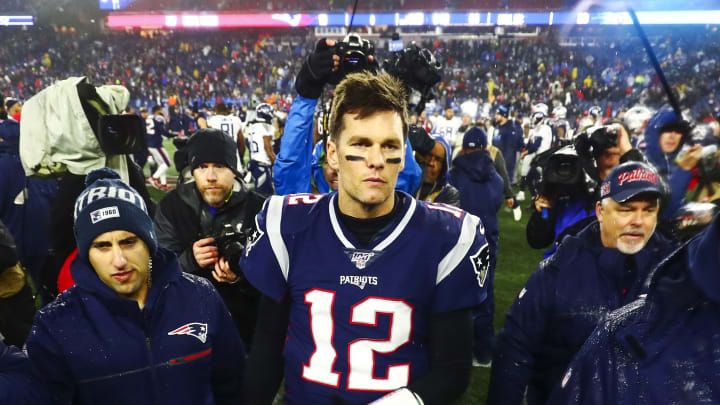 The rumors surrounding Tom Brady's future started swirling moments after the New England Patriots fell to the Tennessee Titans in the Divisional Round of the AFC playoffs.
Well, NFL fans might have just been treated to the closure they've so longed for.
According to Ben Volin of the Boston Globe, a league source well-informed on Brady's impending free agency says that the Las Vegas Raiders, Tampa Bay Buccaneers and Los Angeles Chargers are the three teams most likely to pursue the six-time champion.
All three of those teams are at a crossroads when it comes to flaunting a franchise quarterback.
The Chargers, of course, divorced themselves from Philip Rivers this offseason and are currently projected to have Tyrod Taylor as their starting signal caller in 2020. It's expected that Los Angeles will target a QB in April's draft, but the organization won't necessarily be keen on thrusting them into action in Week 1 of their rookie season. It's also impossible to deny that the Chargers don't have the assortment weapons Brady has been clamoring for in Foxborough.
Tampa Bay, on the other hand, have quite the predicament to sort out as Jameis Winston, fresh off throwing for over 5,000 yards and 33 touchdowns (as well as 30 INTs), will become a free agent in March. The Bucs receiving corps of Mike Evans and Chris Godwin will surely appeal to Brady.
Then, there's the Raiders, who are reportedly prepared to offer TB12 a $30 million per year deal to help jumpstart their move to Las Vegas. Jon Gruden's indifference towards Derek Carr is apparent, and we all know how much he'd love to coach Brady.
In sum, all teams are an ideal fit for the 42-year-old gunslinger. The Patriots will undoubtedly have competition on their hands in their efforts to retain Brady.