3 Records Set in Chiefs-Texans Divisional Round Game That Will Blow Your Mind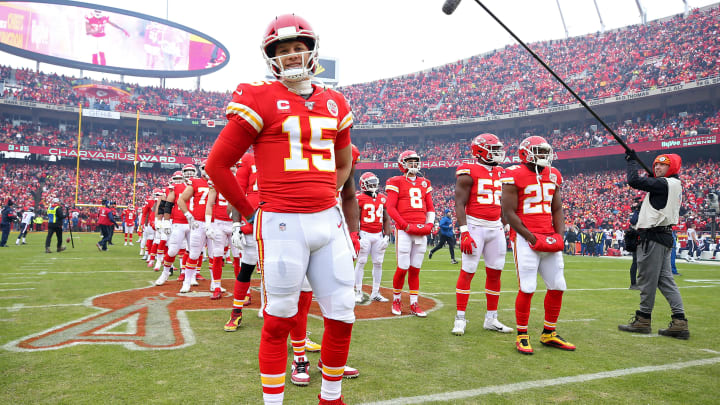 The NFL Playoffs, a whirlwind of Derrick Henry-sized surprises, Aaron Rodgers-led precision, and whatever Patrick Mahomes just did, have been like watching a Quentin Tarantino movie four times a weekend.
And sometimes, you'll see something explosive unlike anything that's preceded it.
The Kansas City Chiefs were this weekend's movie to watch, with Mahomes starring as Brad Pitt, the quietly exuberant character who will prevail to capture hearts, and end lives. And he set plenty of records for playoff destruction along the way.
3.

First Team to Grab Halftime Lead After Trailing by 24+
If you thought Mahomes' Chiefs exploded especially quickly, you'd be right -- they became the first team in NFL playoff history to lead at halftime after trailing by 24 or more points in their eventual domination against the Houston Texans.
This game changed in a span of 3:23, when Mahomes threw three touchdowns in a dizzying display. That's not only abnormal. It's unprecedented.
2.

First Team in Postseason History to Score 41 Consecutive Points After Falling Behind by at Least 20
After falling behind 24-0, the Chiefs' next six drives went Williams TD, Kelce TD, Kelce TD, Kelce TD, Williams TD run, Williams TD run. Once Mahomes got going, he was absolutely ruthless, to a never-before-seen degree. Right as Houston's offense sputtered, Kansas City's ignited.
1.

Largest Comeback in Chiefs History
Yes, the Chiefs' lightning-quick 24-point comeback marked the largest in franchise history, as well as the fourth-largest in playoff history. If you're a Kansas City fan and you believe in your team, but you still didn't think this was possible, we totally get it.
Kansas City has a tough test in the next round against the resilient and skillful Tennessee Titans. The Titans manhandled the Super Bowl favorites in Baltimore, and continue their upwards momentum behind Ryan Tannehill and Derrick Henry.
But, if Mahomes is able to break scoring records again, forcing the Titans to rely on Tannehill rather than Henry, KC might finally see themselves in the Super Bowl for the first time in 49 years.