3 Bold Predictions for Ravens-Titans Divisional Playoff Clash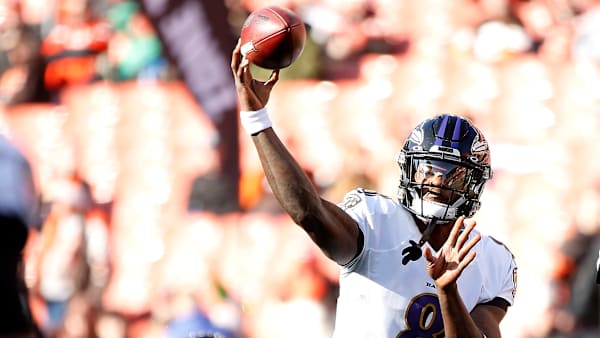 The Baltimore Ravens and Tennessee Titans are set to meet in the Divisional Round for a clash between the top and bottom seeds in the AFC. The Titans enter the game fresh off of an upset defeat of the Patriots and are looking for more. Baltimore, meanwhile, is well-rested following their first-round bye.
Both teams have been spearheaded by strong quarterback play and superb running games, but only one will come out on top. Here are three predictions for how things will shake out in their Saturday night showdown.
3.

Derrick Henry Eclipses 150 Rushing Yards
The league's leading rusher gored the Patriots for 182 yards on the ground in the Wild Card Round, and the Ravens are going to experience more of the same from him. Their rushing defense allowed 4.4 yards per attempt this year, which ranked 21st in the league. They'll have loads of trouble trying to bring down the bruising force that is Derrick Henry rushing out of the backfield.
2.

Lamar Jackson Scores 3 Total Touchdowns
Despite dealing with the flu a week ago, Lamar Jackson will be his usual self in this Divisional Round playoff. He's been incredibly smart with the ball this year, and that won't change on Saturday. The Ravens' offense might not be as explosive as usual against this admittedly tough Titans defense, Jackson will still perform at an elite level throughout the game, both through the air and on the ground. Expect him to be responsible for majority of the Ravens' scoring.
1.

Ravens Win By More Than a Touchdown
Derrick Henry might pose some problems for Baltimore's defense, but other than that, the Ravens should have little trouble having their way with Tennessee. Lamar Jackson and Co, have all of the tools to cruise to victory. Despite all of the injury concerns, they'll control possession throughout the game, winning by more than a touchdown to punch their ticket to the AFC Championship Game.