2020 NHL Draft Lottery Format Explained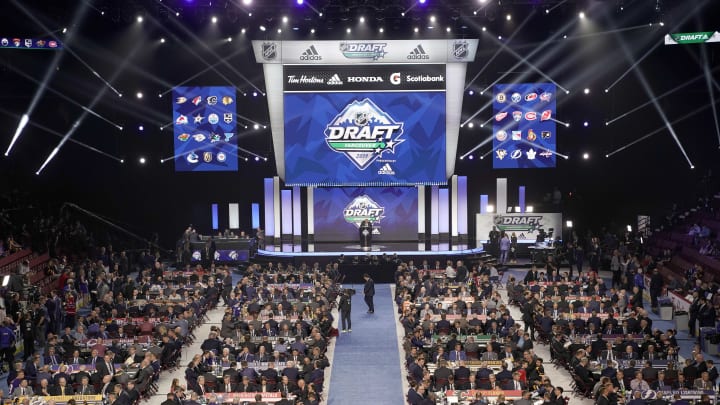 We explain the confusing 2020 NHL Draft Lottery. / Rich Lam/Getty Images
Phase 1 of the 2020 NHL Draft Lottery took place on Friday evening, the annual event that raises the blood pressure of fans that happen to love basement-dwelling franchises. This year, the grand prize of the lottery was elite Canadian winger Alexis Lafrenière, who's destined to become the face of his brand new squad.
Was it the last-place Detroit Red Wings, who owned the worst goal differential in the entire league (-122)? Or was it the Ottawa Senators, who held the second- and third-best odds of winning (thanks to the Erik Karlsson trade with the San Jose Sharks)?
Nope, the winner of the Lafrenière sweepstakes was...a placeholder team participating in the NHL's play-in round? It's true, it's damn true! Now, the lottery enters Phase 2, which we will kindly explain to you.
NHL Draft Lottery Phase 2 Explained
Phase 2 will only include the eight teams that are eliminated in the Stanley Cup qualifying round, set to take place in late July or early August. From there, each of the eight ousted teams will have equal odds to win the first overall pick in the lottery (12.5%). From there, the seven losers will be assigned draft picks 8-through-15 based off their point percentages at the end of the season.
Here are the 16 teams that are eligible to win the first overall pick via play-in round elimination:
Toronto Maple Leafs
Columbus Blue Jackets
Pittsburgh Penguins
Montreal Canadiens
New York Islanders
Florida Panthers
Carolina Hurricanes
New York Rangers
Calgary Flames
Winnipeg Jets
Edmonton Oilers
Chicago Blackhawks
Vancouver Canucks
Minnesota Wild
Nashville Predators
Arizona Coyotes
Phase 2 will officially take place between the end of the qualifying rounds and the start of the Stanley Cup playoffs, so probably by the end of August. So there you have it. A team that gets bounced from the postseason will technically be winners, because they can potentially earn the consensus top prospect in Lafrenière.
Not a bad consolation prize, if you ask us.