Zion Williamson Was Reportedly Unhappy Knicks Didn't Win No. 1 Overall Pick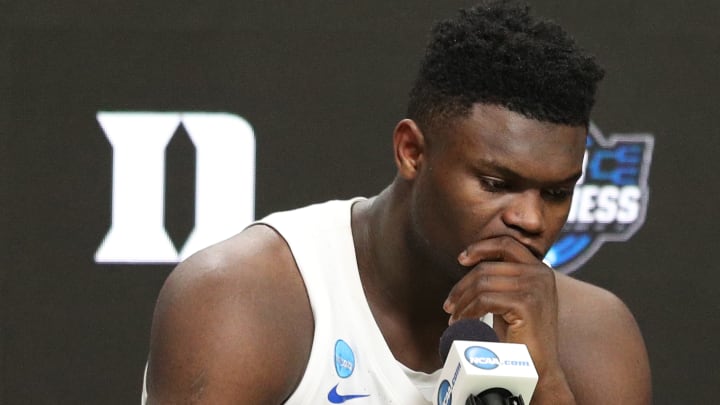 Despite coming into Tuesday night's NBA Draft Lottery with just a 6% chance of landing the No.1 overall pick, the New Orleans Pelicans managed to beat the odds and will now presumably select Zion Williamson on June 20.
Going No.1 overall has likely been Zion's dream since he entered the scene as a freak-athlete who blew up on social media, but according to ESPN's Marc J. Spears, Williamson wasn't pleased with the likelihood of him landing in New Orleans. Per Spears, the former Duke star was getting used to the idea of playing at Madison Square Garden.
Zion was reportedly "whisked" out of the room after it was revealed that Pelicans had the No. 1 pick, and that's certainly troublesome for New Orleans fans who are hoping to make him the team's franchise cornerstone of the future.
Many around the league had been envisioning Williamson in Knicks' orange and blue, and perhaps the 18-year-old phenom had been imagining his playing days at Madison Square Garden as well. That will almost certainly not be the case.
Zion better get used to the idea of calling The Smoothie King Center his home for the foreseeable future, because there is absolutely no way the Pelicans don't select him with the first pick in the draft.
Sure, his energetic and athletic style of play was a match made in heaven for MSG, but both the Knicks and Williamson were dealt a different hand. Regardless of how he feels about his future landing spot, the former Duke superstar is going to put on a show as soon as he arrives in his new home.
Sorry, Knicks fans, but the season-long tank didn't pay dividends this time around.